German Angora Rabbits


German Angora Rabbits: the commercial high-yield wool breed, and also the angora breed easiest to keep mat-free. Plus, info on shearing and spinning angora fiber.

German Angoras are English Angoras that have been selectively bred in Germany over the last 80 years with a focus on quality and quantity of wool. The German standard recognizes animals suitable for supplying the needs of a growing international commercial wool market.
This breed is not recognized by the ARBA, but no matter. Being quite popular in the USA and Canada, a separate American (or international, as they call themselves) accrediting organization was created, the International Association of German Angora Rabbit Breeders (IAGARB). 
The IAGARB utilizes a German Angora standard modeled after the German standard, which heavily favors the animal's wool production and quality of that wool:

Weight -- up to 20 points
Body Type   --   up to 20 points
Wool Density and Length -- up to 15 points
Wool Uniformity -- up to 15 points
Wool Texture -- up to 15 points
Furnishings -- up to 10 points
Condition -- up to 5 points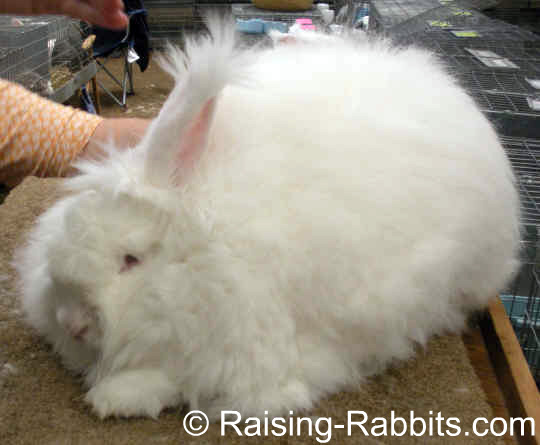 German Angora Rabbits weigh 2.0 - 5.5 kg (4.4 - 12 lb), with preference given to the larger animal. They come in REW most frequently, however solid colors (not brokens) have been accepted recently into the IAGARB standard.
In order to register an animal with IAGARB, the German Angora must not only meet the standard for type, it must also pass 90 day wool production and quality tests. In Germany, the State has set up Angora Wool Stations, and these perform objective testing of German Angora wool quantity and quality. 


Without a doubt, the 90 day wooling tests resulted in the selection of breeding animals that produce way more wool than any of the other Angora breeds...
In 1920, angoras typically produced 200 grams of wool a year.
By 1963, German Angoras were surpassing 1000 gm/year.
By 1999, the 2000 gm/yr mark had been passed, again by German Angoras.


Another improvement:

In 1920, breeders had to comb out the wool every day in order to keep the rabbit mat-free.
Today, according to Walter Drecktrah of Sulingen, Germany:
"Any [German] Angora leaning toward matting is removed from the breeding program.  Combing or brushing the animals between shearing is unheard of."
As a result of this process of selective breeding, German Angora breeders discovered and retained the non-molt gene.
Interestingly, today English breeders are discovering individual English angora rabbits with the same trait - see English Angora Rabbit.


Wool of
German Angora Rabbits

German Angora Rabbits and Giant Angoras (developed from Germans), are distinct in that they carry three separate wool fibers.
The undercoat is heavy, finely crimped, silky, and needs to be suitably long.
The awn fluff are intermediate fibers, longer than the undercoat, a bit crimped and always with a curved tip. The tip will curve itself even after shearing.
The awn hair is also known as guard hair. It is stronger and straight, extending beyond the lengths of the other fibers.
A good balance between these three fibers will result in correct wool texture.
Furnishings are present, but not excessively. German angoras should not be 'wool blind.' Expect to find more furnishings on bucks than on does.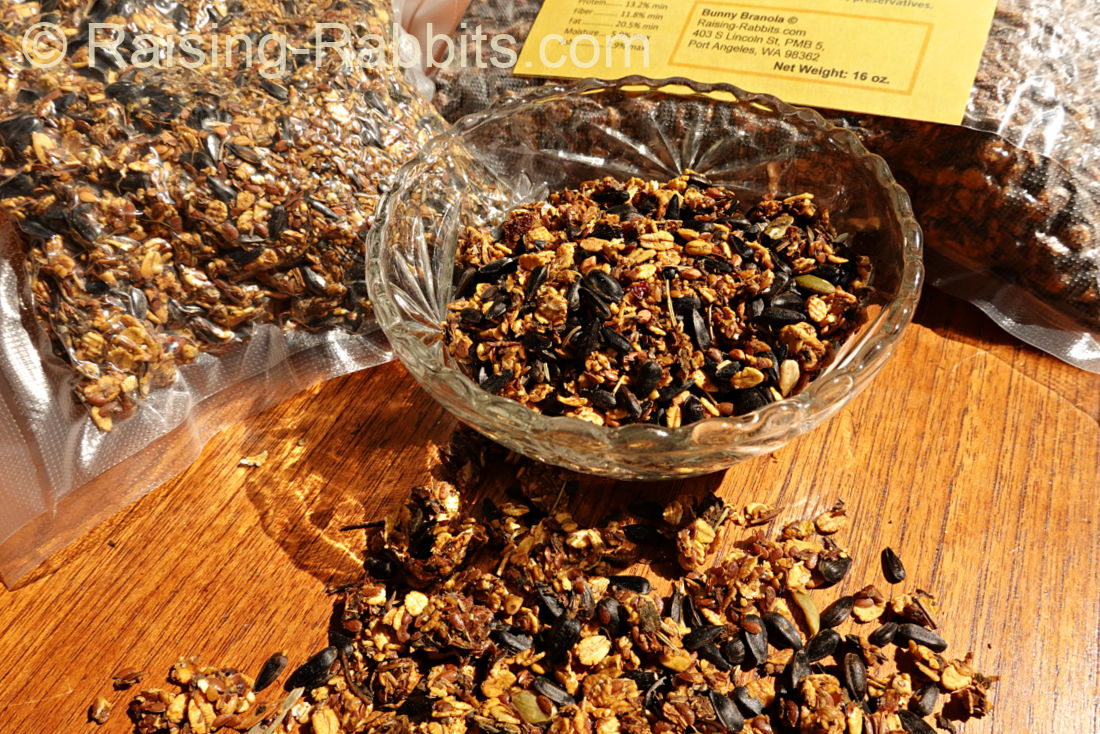 Feed Supplement for your angora rabbits (but great for all breeds)

Bunny Branola

Helps reduce stress levels
May reduce incidence of wool block
Improves health
Adds sheen to coat
Veterinarian-approved
The usual interval between shearings is 90 days. But German angoras require shearing by 4 months at the latest or matting does occur. This is because the wool, while it doesn't fully molt, does slip a bit, and this is what seems to create the mats.
Despite the rigorous testing, weighing and measuring of German Angora wool by the IAGARB, some German angora guard hair fibers are quite coarse, measuring as high as 21-30 microns. This is as compared to merino wool, with an acceptable "high" of just 26 microns. Too high a coarseness may result in itchiness. The coarser fiber of the German angora may contribute to its heavier weight.
What this means:
Breeders of German angora rabbits can improve their breed by:
Continuing the process of selectively breeding for non-molting rabbits
In non-molting rabbits, breeding for quality of fiber (not too coarse)
Don't pursue total fiber weight to the detriment of the breed as a whole.


Shearing and Spinning German Angora Fiber
Shearing Demo:

Mother Marion Spinning Wheel Demo:
For step-by-step instructions on spinning with a Drop Spindle:

http://eweporium.webs.com/howtospinstepbystep.htm
Interested in other rabbit breeds?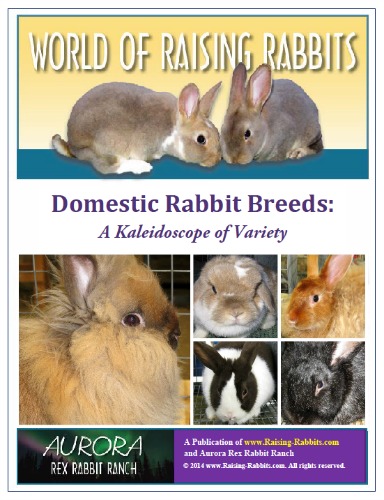 Get the full scoop and tons of full-size photos by purchasing our e-book...


Domestic Rabbit Breeds: 
A Kaleidoscope of Variety


Visit Breeds of Rabbits for a complete description of the e-book, and to purchase it. 


All of our ebooks are on sale 30% off!
Is This Your Rabbit Breed?
Do you have a great story or experience with this breed of rabbits? Feel free to share it!

And while you're at it, you can include up to four photos.
What Other Visitors Have Said
Click below to see contributions from other visitors to this page...

Angora Update from D'Lynn Wooly Bunnies Not rated yet
Actually, some information about German angoras isn't quite current. German angoras DO matt if they go beyond 4 mo. The coat will begin to "slip" (not …
References:
http://eweporium.webs.com/howtospinstepbystep.htm
www.germanangora.net (2018 Update: website is no longer available)
http://www.iagarb.com/ 
http://en.wikipedia.org/wiki/Angora_rabbit
Domestic Rabbits and Their Histories, by Bob D. Whitman