Rabbit Rhythms July 2021
Rabbit Rhythms July 2021: Featuring our First Ever Photo Contest!! 
In this month's newsletter, we are featuring our first ever Photo Contest, just in time for Fourth of July! Do you enjoy creating and dressing up your buns in costumes?? Well, we'd love to see your creativity! Send us your photos and you may win some very cool prizes. It is all explained below.
July's Breed of the Month is the Netherland Dwarf, a highly popular tiny breed which is excellent for show and for pets. 
Lastly, Bunny Branola® is Back!! Raising-Rabbits is offering the same very effective and healthful recipe as before. Plus, look for more "flavors" in the future! We'll tell you more below.
Thank you for subscribing to our Rabbit Rhythms newsletter!
---
4th of July Patriot Bunny Photo Contest!
Is your rabbit photogenic? Festive? A Facebook selfie fanatic?
We want to see!! Which is why Raising-Rabbits is announcing our first Bunny Photo contest!
There is no application fee; just send in your pictures of your adorable rabbits.  A 4th of July theme  is preferred, but certainly not mandatory. Winning bunnies will be featured on our website as well as in future Rabbit-Rhythms newsletters.
Great prizes for lots of winners: Bunny Branola® Rabbit Supplement!
One 1st place winner will receive 1 pound, a 2 month supply, of Bunny Branola®! 
Three Second place winners will receive 8 oz, a one month supply, of Bunny Branola®! 
Five Third place winners will get a 4 oz, two week trial size, of Bunny Branola®!
Contest Rules:

Your original photos only. No stock photos.
All submissions must be received by August 31st, 2021.
Winners will be notified by September 30, 2021.
Labeling of photo, bunny name, breed, age, state/country, preferred. Feel free to give the photo a cute or clever caption as well. 
All photos should be appropriate for viewing by children. No depictions of any kind of harm, or inappropriate depictions or situations of rabbits. 
All photo captions must be appropriate for reading by children.
All submitted pictures become the property of Raising-Rabbits and may be used for promotional purposes. Pictures will not be sold or given to 3rd parties.
Pictures that do not win prizes may be re-submitted in future photo contests. (Hint: tell bunny to start sewing a Halloween costume.)
Pictures may be submitted via the entry form below, or mailed in. Mail-in entries must also be received by August 31st, 2021. Submissions can be mailed to: 4th of July Photo Contest, c/o Raising-Rabbits.com, 403 S Lincoln St, PMB 5, Port Angeles, WA 98362.
Thank you! We hope you will have fun participating in our Fourth of July Photo Contest!


Click here to Enter the Photo Contest!


---

Breed of the Month: Netherland Dwarf
Our Breed of the Month is the adorable Netherland Dwarf. With its cute round little body, round head, and big eyes, this bunny is an irresistible charmer. Breadbox Rabbitry in North Carolina, one of the Featured Rabbitries at Raising-Rabbits, breeds these little cuties, so check their page if you want to see more. They come in a huge range of colors and patterns, and are a very popular pet and show rabbit breed.
The Netherland Dwarf breed dates back to the very early 1900's. They were specifically bred for looks and tiny size. Netherland Dwarfs are neotenic, meaning they keep the cute baby bunny look even as full grown adults. They generally live about 10-12 years. With their big round eyes staring up at you from their adorable baby faces, the cuteness factor is off the charts. They are also small as adults, being only about 2 - 2 ½ pounds with a very rounded little body. 
They do make great pets for adults, and their small size makes them good candidates for people in pet friendly apartments. They are quite easy to litterbox train and are very clean. They are fastidious about grooming, like cats. For those rabbits with nervous temperaments, it may take longer to win their trust, but once you do, they are quite affectionate.
Their high strung personality means they are quite energetic when they play, and at times they need to burn off their nervous energy. This means they can be the perfect companions when you get home from a stressful day at work. Their cute faces and hilarious bunny antics may be just what you need to de-stress and unwind.
They also like getting brushed; there is no therapy in the world like a soft bunny melting into a pile of happy goo in your hands from brushing. 
A healthy Netherland Dwarf diet is unchanged from normal dietary and chewing recommendations, just smaller portions, of course. They especially need roughage for chewing and good digestion, along with quality pelleted feed, and organic, pesticide-free, non-starchy veggies like leafy greens, along with fresh water. See our comprehensive list of Pet Safe Plants.
When you do give treats, make sure they are healthy and nutritious, like Bunny Branola®.  Bunny Branola has nutrients to help your Netherland Dwarf de-stress more easily (especially good for dwarf rabbits!). It also supplies added nutrition for when your bunny is still growing, or when your Bun has little buns in her oven. Because Netherland Dwarfs are so small, it will take only small amounts per day of Bunny Bran, such as a teaspoon and a half, to help keep your bunny healthy and stress-reduced.
If you do decide Netherland Dwarf is the breed for you, here are a few Dutch names for inspiration:
Boy: Aart, Dirk, Ambroos, Pim, Lars, Coen, Espen, Kees, Sven, Arnoud, Gerrit, Aldert, Berend.
Girl: Bente, Lara, Ilse, Gwen, Fluer, Famke, Anouk, Luna, Arabella, Yara, Hannie.
Find an entire page of rabbit names here!
---
About that Bunny Branola!
Bunny Branola is an ultimate rabbit nutritional supplement, and tasty treat!
Your bunny will love our tasty and nutritious snack mix. One (1) tablespoon per day sprinkled on top of your rabbit's regular food is all you need to make your bunny happier and healthier. 
Bunny Branola helps keep fur softer and shinier, their teeth and tummies healthier, and helps relieve stress from things like moving to a new home or cold winters. Bunny Branola is also a wonderful rabbit superfood supplement for pregnant bunnies and growing junior bunnies. 
Our 4 ounce trial size of Bunny Bran gives you 14 - 16 tablespoons, an easy two-week supply of deliciousness for your bunny!

Click here to find out everything that Branola can do for your bunny!
Click here to go to our Raising-Rabbits Store.
Directions: One tablespoon of Bunny Branola is a normal ration for an average-sized rabbit of 6-9 pounds. Feed every day or every other day, depending on your rabbit's health, stress levels, and/or fur or wool condition. 
Photos below: The same tablespoon of Bunny Bran pictured above was placed on the kitchen counter and in the palm of a hand. That slightly rounded tablespoon provides quite a bit of nutrition. If you are feeding a small rabbit such as a 2.5 pound Netherland Dwarf, you would only need a third or a half of a tablespoon every day or every other day.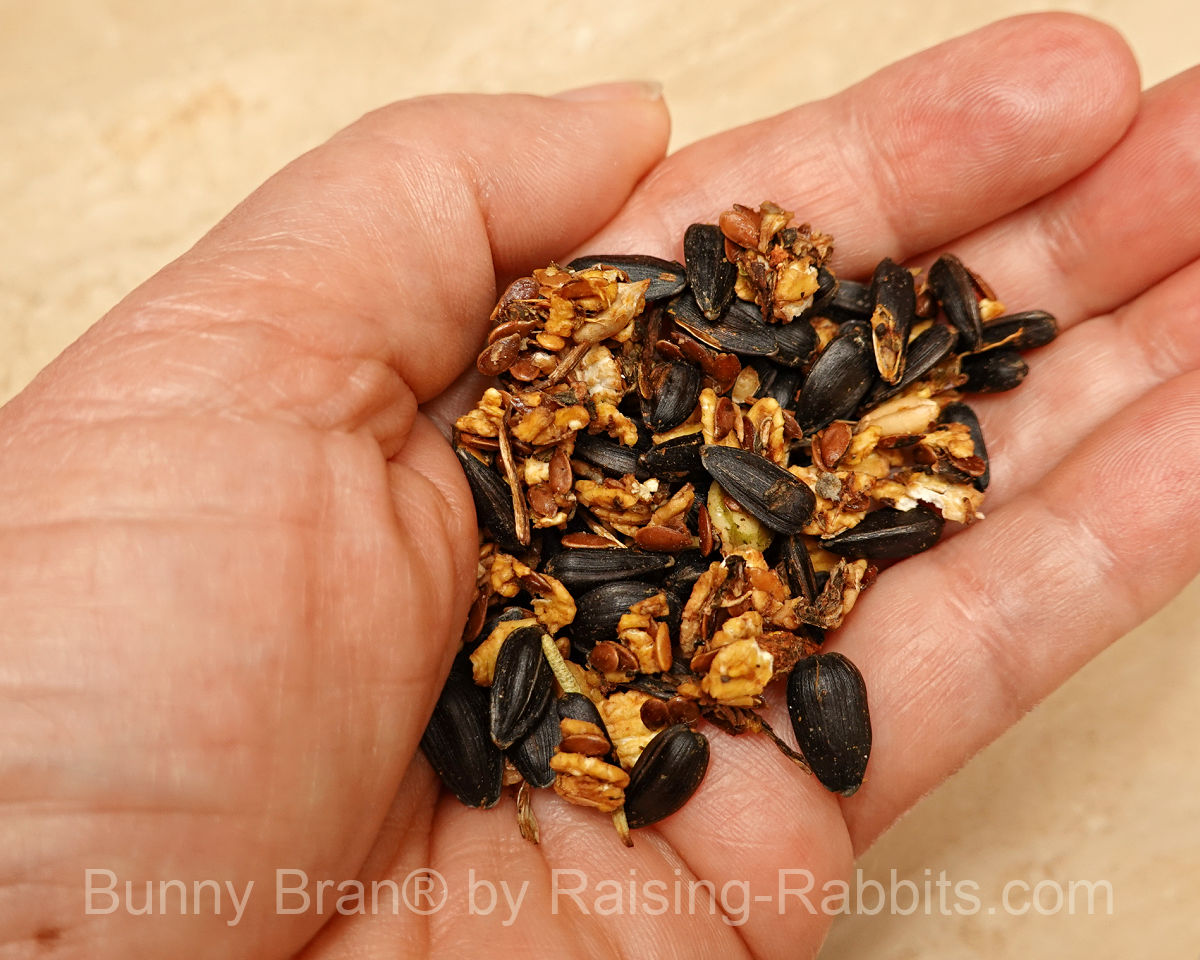 One slightly rounded tablespoon of Bunny Branola measured into the palm of the hand.
---
Photo Contest Submission Form!
Photo Contest Entry Form!


Enter our latest photo contest here!

This is the submission form... Please tell us more about your rabbit and show us your photos of your rabbit in costume or in a themed setting.

Rules for the contest are above and/or on the Bunny Photo Contest page.

We'll need some info from you - your name and email, your city and state, the breed of rabbit, and your story about your photo(s).

We look forward to seeing all the cuteness!
More Contest Submissions...
Click below to see additional posts that other visitors have made to this page...

Roy, the Red Dragon Not rated yet
My daughter dressed up for our County's 4-H costume contest. She was Mulan and Roy was Mushu. Roy is a Red Satin and is 21 months old. Debbie …
Like this Rabbit Rhythms July 2021 Newsletter?
Maybe your friends would too...
Your friends at Raising-Rabbits.com wish you a wonderful July 2021. 
Enjoy your rabbits!