Rabbit Stew Recipe
This is the rabbit stew recipe that gives you a second helping from the lapin (rabbit) your family ate yesterday.
In our home, rabbit stew turns out differently every time, and believe me, we eat quite a bit.  Whatever vegetables we have on hand may very well go into the pot. 
For example, in addition to the veggies suggested below, we've added beets, cabbage, and leeks at various times. And each pot of lapin (or lappin - rabbit) stew ends up becoming a hearty meal for the whole family, stretching one rabbit into two meals for a family of four. 

Ingredients:

-- Bones and meat scraps from one or two rabbits (leftovers)
-- Filtered water to cover
-- S&P to taste
-- 6 cloves garlic, chopped or crushed
-- 1 med or large onion chopped
-- 2-3 carrots, chopped
-- 3-4 celery stalks, chopped
-- 1 tablespoon poultry seasoning
-- 1 teaspoon basil, freshly crushed in mortar, or, generous fresh basil sprig
-- 1 tablespoon vinegar
---
2-3 potatoes, chopped (with skins), or: 

1 cup barley, OR: 1-2 cups noodles, OR: 2 cups brown rice


Add any combination of the following vegetables when nearly finished:
Frozen peas -- half a small bag
Frozen spinach -- 1 small bag
Frozen mustard or collard greens -- 1 small bag
Any leftover veggies you may have in the frig


Top finished rabbit stew recipe, if desired, with your choice of finely chopped herbs/cheese:
Chopped green onions
Chopped cilantro
Chopped parsley
Shredded cheddar, swiss or parmesan cheese


Below: Who says one must follow a recipe to the 't'? This rabbit stew-du-jour contained only beans, oats, rabbit, sun-dried tangy tomatoes, and spices. It was wonderful!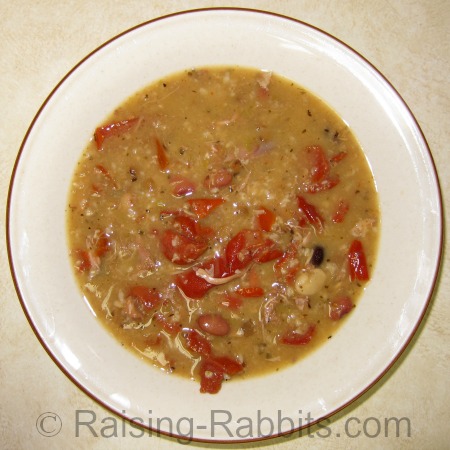 Directions:
After a meal of fried lapin (rabbit), or after crock-potting a stewer rabbit and using the lapin in another recipe (leave a little meat on the bones), gather up the bones and meat scraps and place all in a dutch oven. Cover with filtered water. Add S&P, garlic, onion, carrots, celery, poultry seasoning, basil and vinegar to the pot. 
Bring to boil and simmer for several hours, or until bones become soft.  (The vinegar helps to leach the minerals out of the bones, yet you'll likely not detect any vinegar flavor.)
Remove pot from heat, and allow to cool. 
When cool enough to handle, remove the bones from the pot and discard. To do this, I put a second dutch oven in the sink, place a large colander on top, and pour the lapin broth, bones and veggies into the colander. (Makes the job of getting the bones out easier.)
You can also discard the veggies (my thrifty hub balks at this!) and then re-add various amounts of fresh veggies -- garlic, onion, carrots, celery -- back into the rabbit stew recipe. This will enhance the flavor of the stew as well as add nutrients.
Reheat. Taste; adjust seasoning at will.
Once you've brought the pot of rabbit stew to a boil once again, add to the pot your choice of, or combination of, potatoes, barley, noodles or brown rice. (More often than not, we simply omit these ingredients altogether in order to limit our intake of simple carbs.)
Simmer until the newly added fresh veggies and grain are soft, about 30-40 minutes.
When the rabbit stew is just 1-2 minutes from ready, add any assortment of finely chopped herbs and/or cheese to the pot.
Or, you can put these items in bowls and place on the table so family and friends can help themselves.
Bon appetit!


Just so you know:
This rabbit stew recipe supplies you with a good dose of immune-system-strengthening nutrients
You know how meat broth tends to gel in the refrigerator? The reason for this is the presence of glyconutrients -- the immune-system-supercharging 'alphabet' whereby your body communicates with each of its parts. 
This is hugely important for health.  If you don't eat enough glyconutrients, your immune system has to function with some of its 'phone lines' down. Important messages may not get through. You may get sick more often and recuperate more slowly.
Double-Value Guarantee
Our policy is to always OVER-deliver on value,
which is why your purchase is fully covered by our
Double-Value Guarantee.
Go ahead - take any of our e-books for a test drive. Peruse our detailed informational and educational e-books. Examine our plans for building rabbit cages, runs, or metal or PVC hutch frames. Check out the Rabbit Husbandry info e-books.
If you aren't completely satisfied that your e-book purchase is worth at least double, triple or even quadruple the price you paid, just drop us a note within 45 days, and we'll refund you the entire cost. That's our Double-Value Guarantee.
Note: When you purchase your e-books, they will be in PDF format, so you can download them to any device that supports PDF format. We advise making a back-up copy to a drive or cloud account. If the books are lost, you can also purchase another copy from Raising-Rabbits.