Rabbit Rhythms September 2021
Rabbit Rhythms September 2021: 
How do rabbits react to the coming chill of autumn and winter? See our humorous but informative article, Fluffles in Fall! 

September's Breed of the Month is the Himalayan, a curious old breed with a great personality. Check them out!
Lastly, we've introduced a new fall flavor of Bunny Branola®!! While you sip your pumpkin spice latte, your bunny can indulge in his new favorite treat - Pumpkin Spice Bunny Branola! Keep reading for the details.
We are on Facebook! Like our page for news and rabbit funnies! https://www.facebook.com/RaisingRabbits
Thank you for subscribing to our Rabbit Rhythms newsletter!

---
Fluffles in Fall: What you Need to Know
Rest and Relaxation
Fall brings lots of activities: back to school, holidays, sports...and new bunny behavior. 
Your buck, who was quite the ladies' man a few weeks ago, may now be content just to watch football on TV instead of romancing your does. This is nothing to be alarmed over. In fall, love hormones for bucks and does drastically drop and they enter into a breeding latency period.  The rabbits, both bucks and does, will exhibit calmer behavior in general.
There's no need to worry about bunny blues; don't believe your rabbit when he says his therapist recommends doubling his daily treats. You can read more about this in our eBook, Rabbit Reproduction (2nd Edition, Recently Revised and Updated), now on sale - 30% off for only $8.99! 
Time to give the teens their own space!
The other fall season bunny behavior issue is that some of your kits may be entering their "teen years." What do teenagers want more than anything? Besides a cell phone with unlimited data, they also want their own room. Rabbits are no different.
Hermes the pet rabbit has the most amazing indoor corral ever!
The kits that were born in spring are now adolescents, and it's time for them to get separate cages. Especially since does can start getting pregnant when they are only 3 months old, especially the smaller breeds like minis and dwarfs. You can buy them a cage, or you can spoil your bun with a personalized hutch or indoor space. Our eBooks have all the information you need on good rabbit habitats, including how to build them yourself and stock them with amenities your fluff will enjoy. These books are also on sale, 30% off, and you can check them out here: https://www.raising-rabbits.com/plans-for-building-rabbit-cages.html.

---
Breed of the Month: Himalayan Rabbits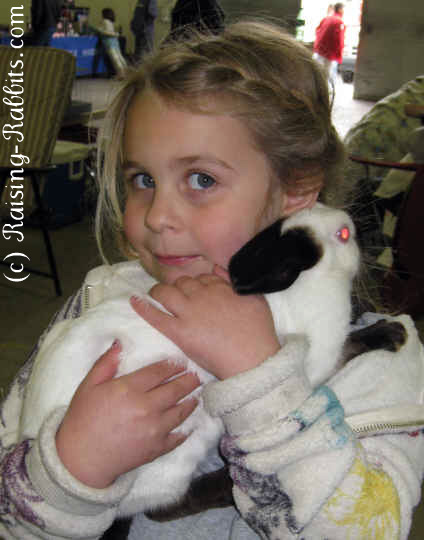 Black Himalayan rabbit at a rabbit show with his little friend. Himis are great for kids!
The September Breed of the Month is the Himalayan Rabbit. These unique bunnies are available at Maple Ridge Stables in Rigaud, Quebec, Canada, just an hour from Montreal. Check out their Featured Rabbitry page for a close look at them - in supreme baby bunny cuteness.
Himalayans, AKA Himis, are documented back well over 1000 years. They became really popular in the mid-1800s, when rabbits moved beyond livestock uses and started becoming pets and show animals. They have been recognized by ARBA and the BRC for several decades. 
Himalayans are the pandas of the rabbit world. They have a distinct appearance in both body and fur markings. Their bodies are long, slender, and cylindrical, instead of being the round fluff balls we usually see with rabbits. Owners will pet, massage, and pose them to make them appear as long as possible, until they look like a furry foot-long hoagie roll....
---
Black Himalayan rabbit posed for the show table.
Their markings are also very definitive, white bodies with dark points, i.e. the ears, paws, tail and nose. As kits, their points will be noticeably lighter than their final color, but you can definitely see which color you will be getting as an adult. 

Modern Himalayans come in 4 colors, black, chocolate (deep blackish brown), blue (dark grey with a bluish tint), and lilac (lighter grey). All 4 have white bodies, and the points will be one of the 4 darker colors. Only the Black is true to the breed. The other 3 colors were achieved by cross breeding with other rabbits. (Hopefully there is a breeder out there making love connections between Himis and Reds/Thriantas, so we can one day adore Ginger Himalayans!)  
With the star treatment they get from being such exotic beauties, you may wonder, what about a persnickety personality? Good news: they haven't let it go to their heads. Himis have very sweet docile natures which makes them great, not just as a show rabbit, but also as a pet for children. Himalayans are very popular in 4H circles because of this. Size wise, they are also a good choice, being about 2.5-4.5 pounds, so not a big handful. 
When looking for a new pet with chic style and sweet personality, Himalayan is the way to go. If you want to learn more, check out our ebook, Domestic Rabbit Breeds, on sale 30% off! 
---
Tip of the Month: Use Our Google Search Bar
Raising-Rabbits has a Google-powered search bar at the top of the right-hand column on every page! You can use it to search the entire 1,500+ pages of the Raising-Rabbits website and find the exact rabbit-related info you happen to need at the moment.
Are you interested in purchasing a specific breed of rabbit but don't know where to look?
Punch in the name of your chosen breed, and you may just find multiple sources of the breed through our growing Rabbits For Sale pages!
New Flavor of Bunny Branola!

September is here, and with it comes everything we love about Fall: the bright leaves, the cool weather, and PUMPKIN SPICE!
This year is extra special because now you can indulge your bun in this fall favorite, Pumpkin Spice Bunny Branola! While you sip your Pumpkin Cinnamon Spice Latte, your bunnies can savor the same joyful taste with our Pumpkin Spice Bunny Branola - his new favorite treat!
Pumpkin Spice Bunny Branola is hand made with love and natural fresh ingredients from beautiful Washington State. The fresh pumpkin and apples, cinnamon, and ginger will make your rabbit thump with happiness. We still have our classic Original Flavor too. Both varieties are made with all natural, delicious ingredients (no dyes, chemicals, corn, or soy) to make your bunny happy and healthy. 
Click here to find out everything that Branola can do for your bunny!
Click here to find Bunny Branola in our Raising-Rabbits Store.
---
Like this Rabbit Rhythms September 2021 Newsletter?
Maybe your friends would too...
Your friends at Raising-Rabbits.com wish you a wonderful September 2021. 
Enjoy your rabbits!


Chew Stix by Raising-Rabbits


Just the sticks your bunnies need for chewing and gnawing!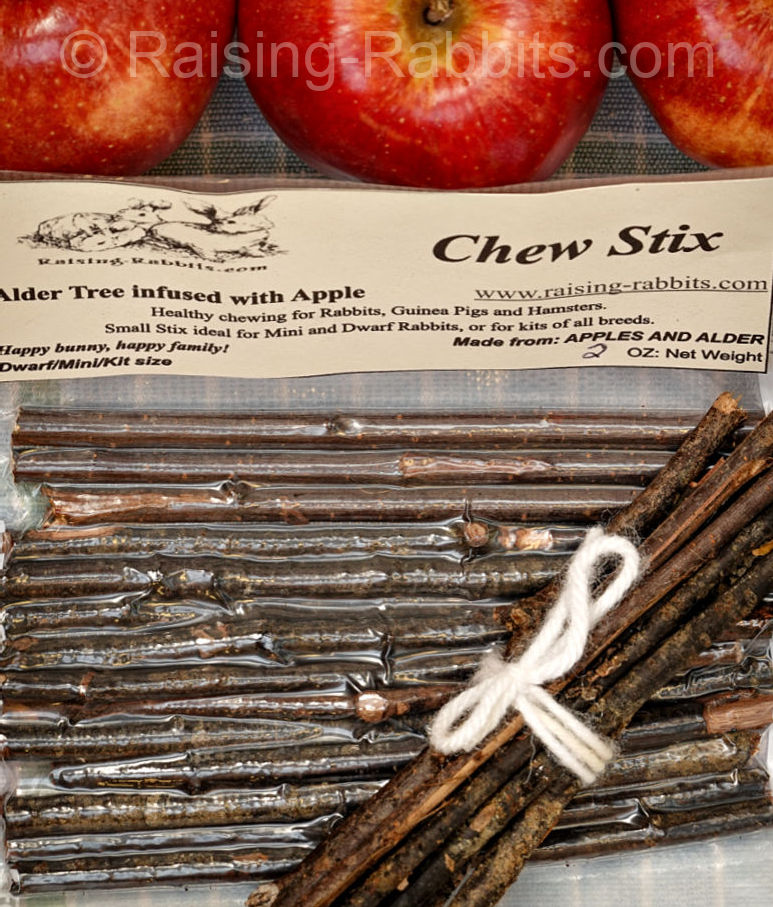 Fruit-infused Raising Rabbits Chew Stix are nature's blessings from the beautiful Washington State forests and orchards.
Fresh alder branches are harvested from trees grown without chemicals, pesticides, or smog. Those branches are then hand cut down to bunny size portions, and infused with apple from Washington's famous apple farms.

Alder is perfect for rabbit dental hygiene! The apple taste and smell will attract your bun, and they can chew to their heart's content, saving your phone cords and your sanity.