Rabbit Rhythms February 2022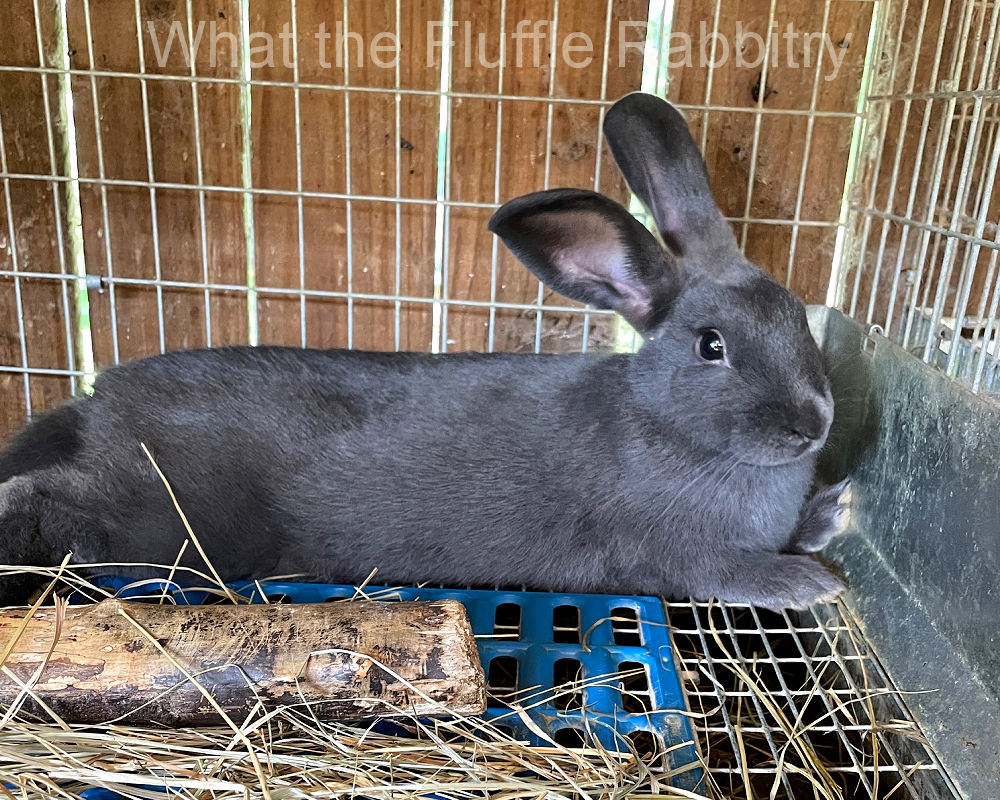 New Zealand Blue Rabbit at What the Fluffle Rabbitry in NC.
Welcome to the February 2022 edition of Rabbit Rhythms!
This month's Breed of the Month is the New Zealand rabbit, which comes in five different varieties. Should you get one? We share some details that you may not have realized. 
The New Year is several weeks old, and there are still several months of cold weather ahead. Consider purchasing warm sweatshirts branded with the Raising-Rabbits logo and ultra-cute bunnies!
And lastly, help your school-age kids take advantage of their interest in rabbits by focusing their school essays on rabbits! Raising-Rabbits is stuffed full of fascinating info about rabbits from which they could draw.
---
---
Breed of the Month: The New Zealand Rabbit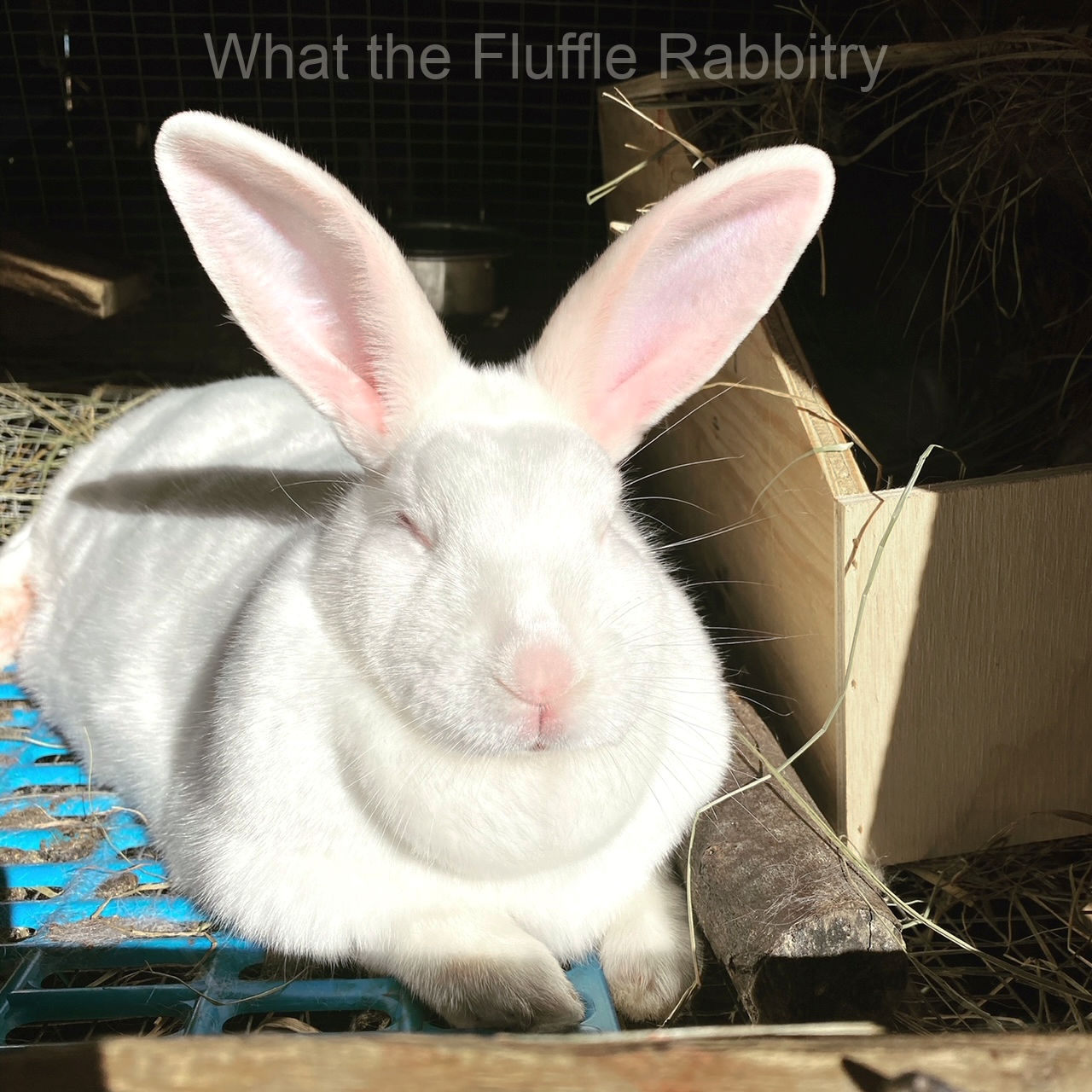 New Zealand White (NZW) Rabbit at What the Fluffle Rabbitry in NC. NZW's are the quintessential agricultural rabbit.
G'Day mates! Our February Breed of the Month is the New Zealand rabbit. What the Fluffle Rabbitry in North Carolina has all 5 varieties of New Zealand: Red, White, Blue, Black, and Broken.
New Zealands are a great choice of rabbit breed whether your family is looking only for a furry friend, or whether you are interested in homesteading. (This article does contain content about commercial uses for rabbits as livestock.)
Surprisingly, New Zealands are 100% American and 0% Kiwi! For an afternoon movie, you're much more likely to see them tuning in to a John Wayne western than to Crocodile Dundee.
In the early 1900s, Belgian Hares were all the rage in USA, and rabbit ranchers began crossing them with Flemish Giants to produce a great meat rabbit. They had a gorgeous red color, so they were initially dubbed American Reds. At the same time, rabbits from New Zealand were imported, so an urban legend of this new American/New Zealand breed spread around. When ARBA officially recognized them, a vote on the name of the new breed was held and "New Zealand" won.
In the 1800s and early 1900s, rabbits were very common as livestock that could provide steady meat and fur for winter wear. American weather is often described as "able to kill bacteria," so fur use from livestock was critical. This is why rabbit ranching is still a staple in rural life.

Rabbits are ready to harvest much faster than cows and pigs, don't require the same space, and provide fur, unlike chickens.  At ARBA competitions, standards emphasize quality meat. New Zealands breed much more often than larger livestock, and they are a hardy species with good size litters. They  enjoy good health and are relatively easy to care for.

(Pictured: ARBA rabbit shows often include "meat pens." The purpose is to help the meat rabbit breeder to recognize and develop uniformity in the animals that will go to market. The winner of the meat pen competition will have presented three rabbits of a prescribed age that are very nearly identical in body composition and weight.) 

Three young New Zealand rabbits are judged together (meat pen) at a rabbit show.
New Zealands started out with just one variety: red. New Zealand Reds have a vibrant reddish coat with a cream belly and brown eyes. 

But then a rabbit breeder in 1917 had a doe that produced a litter of albinos, 3 does and one buck. The breeder made the most of the situation, quickly producing more. Albinos are white all over with ruby-pink eyes. REW-NZ stands for Ruby Eyed White New Zealand, not a loud nineties rock band. 
While New Zealands were bred primarily as livestock, they have docile, even temperaments and are affectionate, so they can make good pets. They are curious but calm, and do well as indoor or outdoor pets.  (Our e-book, Ideal DIY Rabbit Cages, has everything you need to know about creating and building great indoor and outdoor living spaces for rabbits.)
New Zealand does should max out at 12 pounds, a little bigger than bucks with a max weight of 11 pounds. They have upright ears and "flyback" fur, meaning that if you  blow or brush the fur in a different direction than the natural lay, it will immediately return. 
If you are zealous about New Zealands and want to learn more, check out our e-book, Domestic Rabbit Breeds. All of our e-books are still 30% off with our New Year sale. 


---
New Year, New You, New Fashion!
Excellent quality sweatshirts and hoodies are available from Raising-Rabbits, so you can share your love of rabbits with the world!
As you put away your Christmas sweaters, you realize you're short on fun winter wear.

Raising-Rabbits has its own sweatshirts and hoodies to help keep you toasty warm on cold days. They are good quality, nice and thick, AND pre-shrunk. That means the size you buy is the size it stays. (Mine has gone through the wash multiple times and it is still beautiful AND the same size.)
For those of you who had a green Christmas, it is hard to go wrong with our men's and ladies T-shirts. You can check it all out in the Bunny Bazaar, our online shopping mall. We also have tons of other rabbit inspired fashions, robes, slippers, silly socks, and more! Check out our BUNNY BAZAAR!


---
New Year, New School Semester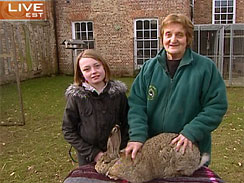 Continental Giant - 42 pounds of rabbit!
As the Winter/Spring semesters begin, you get a whole syllabus of new assignments. Your teacher tells you, "Start thinking about your topics for your essays now!"
Teachers have seen the same subjects rehashed for years and even decades, so they love new topics. Some teachers even give a list of topics that students aren't allowed to pick because they are tired of seeing them.
What if you could make your work stand out with unique material - rabbits!
There are dozens of recognized breeds, and they come in a huge range of colors, patterns, and sizes! From the tiny Netherland Dwarfs that share clothes with large hamsters, to the Giants that stop people dead in their tracks -- "I thought that was a dog!" -- rabbits come in a huge variety. You could spend your entire semester on rabbit essays, never repeat a single fact, and give your teachers new content that they will actually enjoy reading.
Raising-Rabbits has hundreds of pages of information, plus our books and e-books go into even more detail. If you need pictures for your topic, just contact us for permission to use ours. Recently we had a veterinary student in Finland use one of our pictures for her doctoral thesis.
Make those good grades by covering new information!


Like this Rabbit Rhythms February 2022 Newsletter?
Maybe your friends would too...
Your friends at Raising-Rabbits.com wish you a fabulous February 2022! 
Enjoy your rabbits!
Bunny Branola - Ultimate Rabbit Nutritional Supplement, and Treat!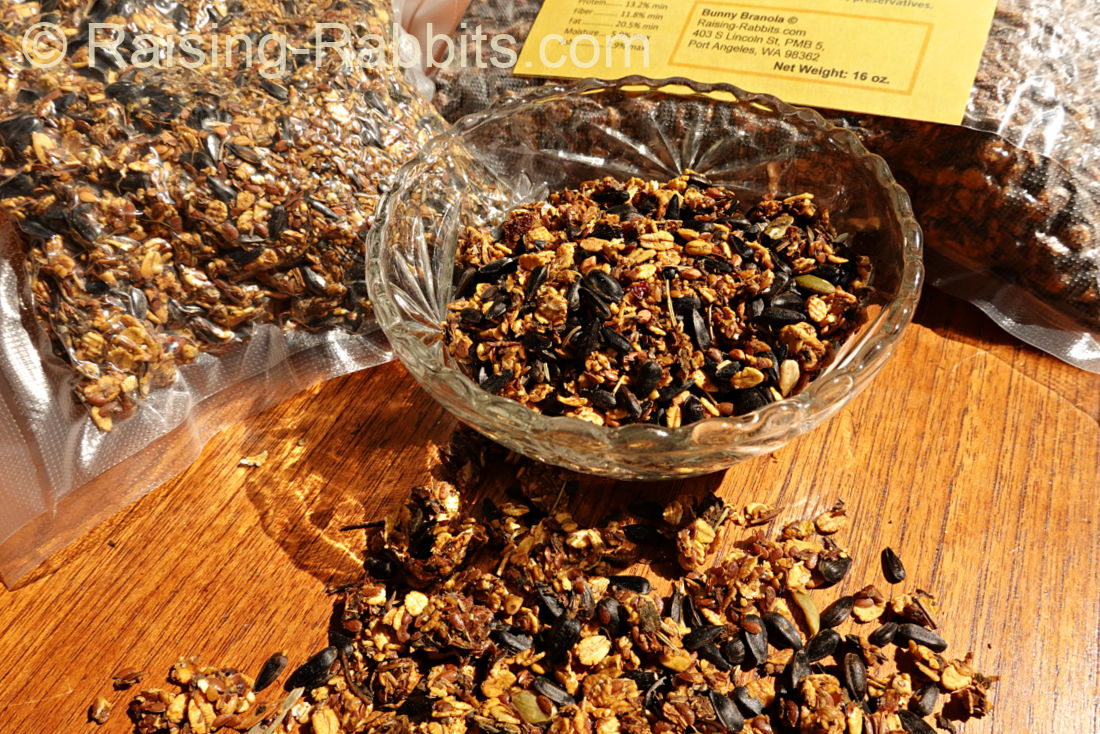 Bunny Branola.
What bunny doesn't love Bunny Bran??!
1 Tablespoon per day of our tasty and nutritious snack mix
sprinkled on their regular food is all your bunny needs to be happier and healthier.
Bunny Branola makes fur softer and shinier, teeth and tummies healthier, and helps relieve stress due to things like barking dogs, new situations, or ultra cold winters. 
Bunny Branola is a wonderful rabbit superfood supplement for pregnant bunnies and growing bunnies. 
Bunny Branola now available in three flavors - Original, Pumpkin Spice, and Merry Mint!
Bunny Branola can be ordered in Multi-Variety Packs!
Chew Stix by Raising-Rabbits


Just the sticks your bunnies need for chewing and gnawing!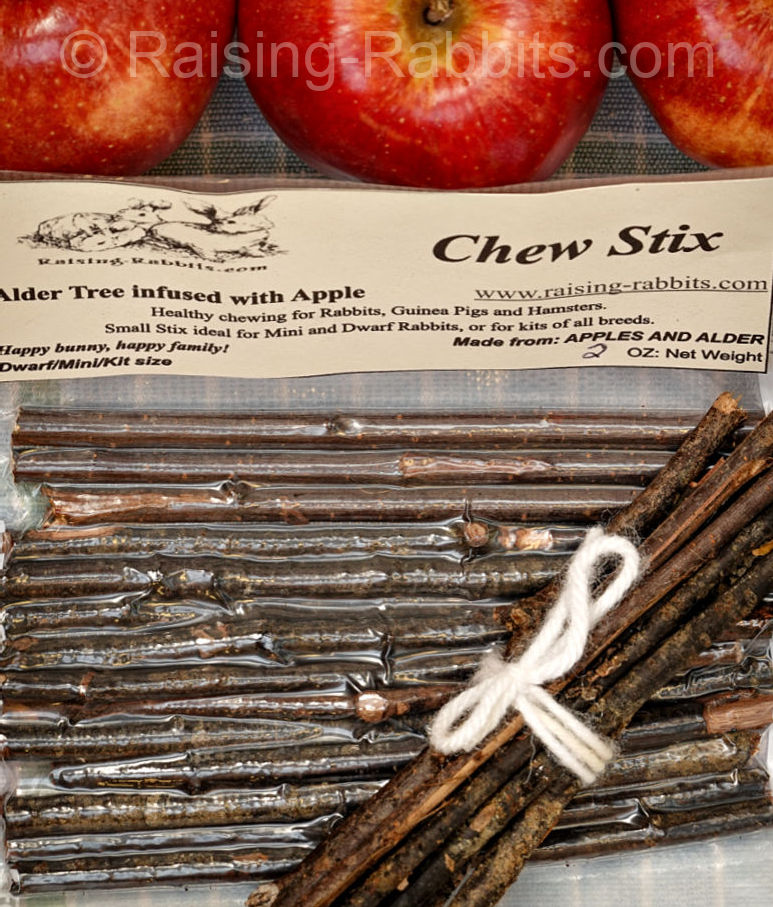 Fruit-infused Raising Rabbits Chew Stix are nature's blessings from the beautiful Washington State forests and orchards.
Fresh alder branches are harvested from trees grown without chemicals, pesticides, or smog. Those branches are then hand cut down to bunny size portions, and infused with apple from Washington's famous apple farms.

Alder is perfect for rabbit dental hygiene! The apple taste and smell will attract your bun, and they can chew to their heart's content, saving your phone cords and your sanity. 
Double-Value Guarantee
Our policy is to always OVER-deliver on value,
which is why your purchase is fully covered by our
Double-Value Guarantee.
Go ahead - take any of our e-books for a test drive. Peruse our detailed informational and educational e-books. Examine our plans for building rabbit cages, runs, or metal or PVC hutch frames. Check out the Rabbit Husbandry info e-books.
If you aren't completely satisfied that your e-book purchase is worth at least double, triple or even quadruple the price you paid, just drop us a note within 45 days, and we'll refund you the entire cost. That's our Double-Value Guarantee.
Note: When you purchase your e-books, they will be in PDF format, so you can download them to any device that supports PDF format. We advise making a back-up copy to a drive or cloud account. If the books are lost, you can also purchase another copy from Raising-Rabbits.