I have 9 Belgian Hares..
by Mik
(Friesland, Netherlands)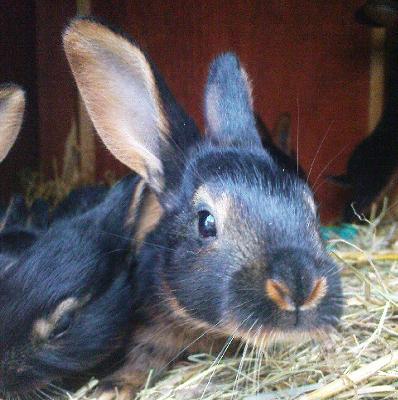 Belgian Hare 3 weeks old
Once I saw just one picture of the Belgian Hare I was sold...completely in love. Now I am a hobby breeder of black-tan Belgian Hares here in the Netherlands.


I am a responsible breeder, love my animals and keep them in comfortable homes with loads of space. I won't be having baby bunnies until end of March beginning of April. And depending on the amount I'll decide for a second breed with a different couple.
My Hares have play areas and love to hop and run around. One of the ladies lives in the house with the family. It plays with the cat and the dog and is scared of nothing! It sleeps in the kitchen in a bench, but its door is always open for her to hop around. She comes to lay next to me on the couch and protests even when she doesn't get the lovin' that she wants. And I respect that ;-)
Belgian hares are beautiful animals with spirit and character. They're quite smart, and not to be underestimated!