Why I raise New Zealand Rabbits
by Susan Joubert
(Amity, OR USA)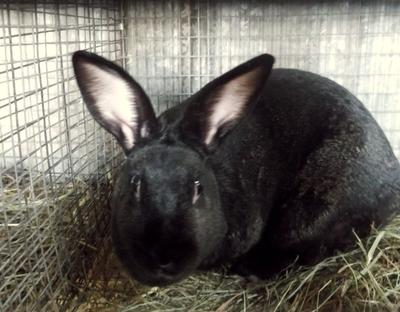 One of my black does, Macy
I have focused on raising New Zealand rabbits for several reasons. First was the does' disposition - they are easily tamed and are excellent mothers, nursing their young shortly after kindling and not at all aggressive towards handlers. Second was the impressive growth rate of the offspring, the 5-pound mark is reached between 8 and 10 weeks with most 12-week-olds being 7 pounds live weight. Third is the variety of colors in the breed. Between the reds, blacks, whites, blues and brokens there is endless room to collect, swap, and sell rabbits.


***** Karen Sez *****
Very nice looking rabbits!
Back in the day when I was trying to decide which breed of rabbits to raise, I opted away from NZ's because of the lack of variety in colors. Plus the meat processors all paid a premium for the desired white rabbits.
I raise Rex exclusively now, but if I were not so stuck on Rex rabbits, and seeing your pics, I might have been tempted to reconsider!
Thanks for sharing. :-))