New Zealand Reds and Whites
by Herron Farms
(Dawsonville Ga. 30534)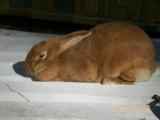 Big Red
I have raised New Zealand Reds for over 30 years, I have New Zealand Whites also, but I prefer the Reds.


They are prettier to look at, show better, and they don't shed like the whites.
***** Karen Sez *****
I 'get' the statement about preferring one variety over another color-wise.
But, 'the reds show better?' 'Don't shed like the whites?' Very interesting. Maybe Herron Farms has discovered some valuable genetics...?
I'm not joking - they've found a non-shedding gene in angoras. I for one would like to know more. :-)
Interested in some Herron Farms breeding stock? Trot over to our Rabbits for Sale in GA page (linked at Rabbits for Sale in the navigation bar at the left.)