I love rabbits
by Taushia
(Wyoming)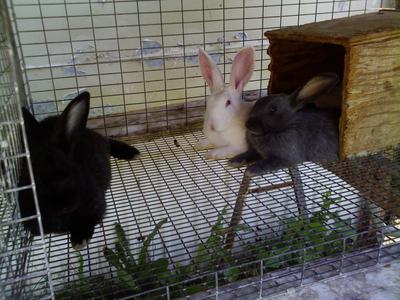 Two silver fox and a NZ
I love the breed. I have also cross bred mine to NZ and got a doe that looks like a silver fox. the coat of the mix breed doe is not the same texture as the silver fox of course. I have Champagne D' Argent, New Zealand whites and silver fox and a blue silver fox also.


***** Karen Sez *****
These are beautiful rabbits of yours! I am very interested that the NZ cross yielded silvered rabbits. Were you aware that it carried a recessive silvering gene?
The Champagne d'Argent babies are so cute! You've captured well the transition phase - solid black, but beginning to silver out after 8 weeks or so.
The Champagne d'Argent breed makes a great choice for anyone looking for dual or triple purpose rabbits. And yours look to be very nice examples of the breed. Good job.