Feeding Your Rabbits
(With or Without Pellets)
A key part of keeping rabbits, whether for livestock or for pets, is feeding them.
Why? Because in their individual cages, rabbits cannot feed themselves. (The reasons for housing rabbits individually are many and varied, but one of them is their prolific fertility.)
It is no different for rabbits in colony housing – they also will not be able to feed themselves for very long. In any space with walls around it that is inhabited by rabbits, the green forage existing inside the boundaries of the rabbit colony will soon be exhausted.
Eventually, it falls to human owners to ensure that their rabbits (both pets and livestock) are well nourished.

Below: E-Book Cover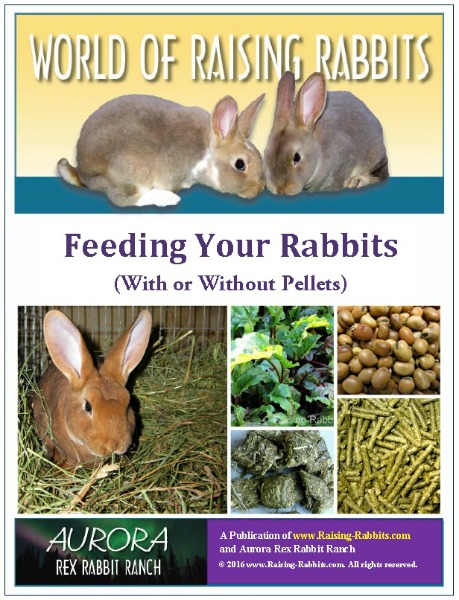 And, if you've recently acquired a rabbit, knowing how to feed your rabbit might still feel like an unknown foreign language!
Consider this post we received from an individual who had taken home an escaped domestic rabbit:
"We found a pet rabbit on the road and took him home.
We fed him a lot of lettuce and he ate the whole bowlful and drank lots of water.
I was eating an oatmeal cookie, so I gave him some of that...
"The next day while I was at work he was fed some more human food...
some noodles and some kind of nuts.

"This morning the bathroom floor was covered with what is hard to describe -
it was a dark ooze and what looked like bloody urine. The amounts looked like
too much for a rabbit his size. What should I do?"
Yes, some education is sorely needed!
So, besides a desire to help the kind (but clueless) gentleman quoted above, we took several months to research ways to feed rabbits without pellets. We had already conducted a couple feeding experiments, which taught us a lot. We did a lot more research, and then put all our findings in our e-book: Feeding Your Rabbits (with or without Pellets).

As we've done with our other e-books, we included some information on feeding rabbits that one can find on Raising-Rabbits absolutely free of charge. Also, as with our other e-books, this information has been edited and enhanced (because there is no way to include everything on a web page). But in the case of feeding rabbits, you'll find the results of our many months of research presented, none of which are found on the website. Things like:
Nutritional chart containing nutrient values of 10 high-protein food sources
Warnings about certain legumes that should not be fed to rabbits
How to denature the anti-nutrients in some protein sources
Ideas for edible landscaping with your rabbits in mind We touch on sprouting grains, with links to more info
Links to many forage-feeding supplies
Target percentages for feeding protein, fats, carbs, and fiber
How to get started feeding fresh forages to rabbits
Web addresses of sites containing scientific livestock feeding nutrition information
An enlarged pet-safe plants and forages list

Until February 20, get the Feeding Your Rabbits e-book at an introductory rate of 20% off – only $11.59! Get the whole scoop here; and purchase before February 20 for the best deal on Feeding Your Rabbits!

We also have plans to provide "Feeding Your Rabbits" in book form.

If you are particularly interested in obtaining a hard copy of this e-book rather than an electronic one (or both), please do let us know.



Overheard
"Recently I purchased the e-book on rabbit hutch construction.
It was awesome! Thank you." (Brian, IL)



Brian also requested permission to use a couple of our copyrighted photos found in the e-book he purchased, Ideal DIY Rabbit Cages.

Permission granted. :-)

Note: All content on Raising-Rabbits.com is copyrighted, and may not be copied or re-posted on your own website. Usual copyright rules apply, should you wish to quote something you saw on Raising-Rabbits – brief quotes, with a link back to the Raising-Rabbits.com page that you'd like to quote from. Please request permission to use photos – we may just say yes. :-)


Below: One PVC hutch frame with a pet rabbit cage and deep drop pan suspended from the frame. Can be used inside or outside under a roof. This plan is available in Pet Rabbit Living Spaces e-book and also in Ideal DIY Rabbit Cages.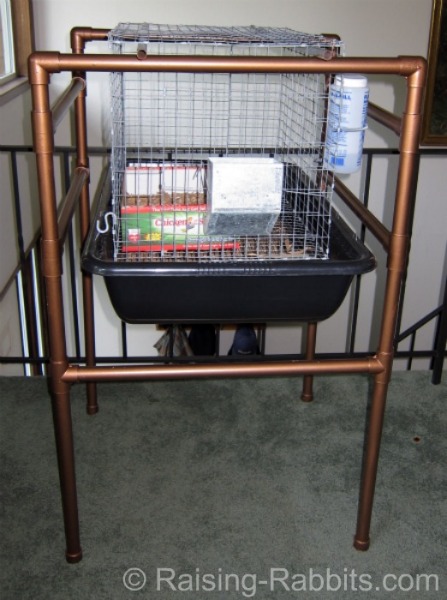 Healthy Rabbits
Nothing Worse than Cannibalism by your Rabbit Mom
...Unless it is to get surprised by the gruesome sight.
An anonymous writer contacted us asking:
"Do rabbits eat their baby bunnies?
"My daughter's rabbit had only 3 kits that we know of and it was the doe's first litter. One kit we managed to get off her while she was eating it, the other she completely ate and we found one outside the nest in her outside cage. I have no idea why she did this but they were very big. She is fine now, but I wish I knew why this happened."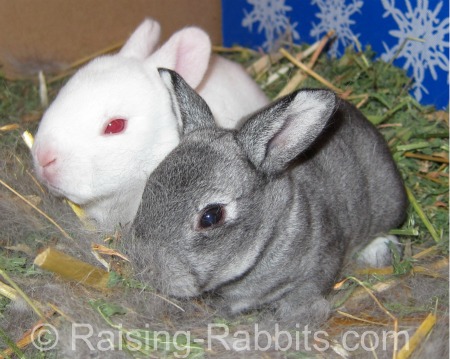 Yes, that is one of the more difficult parts of the make-up of rabbits.
It doesn't happen very often, thankfully. The most common causes for does eating their young are:
Stress or fear surrounding the birthing time
Weak mothering instructions in the genetic makeup
Sometimes one never really knows. Repeating the breeding frequently results in complete success.
But, the best way to help prevent cannibalism in the future is to ensure a nice quiet, non-threatening environment for a few days before, and also during the birthing process.
You'll find much more info in our book, Rabbit Raising Problem Solver, or our e-book, Rabbit Reproduction.
I hope the next delivery will be much more pleasant!
Rabbits in the News
"Virus helps wage war on rabbits"
As you know, Australia has had a very difficult time controlling the feral rabbit population, which continues to soar. Two viral diseases have been unleashed on them over the last hundred years: myxomatosis and rabbit hemorrhagic disease (also known as calicivirus). These bio-attacks worked very well, but enough recovered or immune rabbits survived to replenish the feral rabbit population.
Below: European wild rabbit, same species as domestic rabbits and Australian feral rabbits.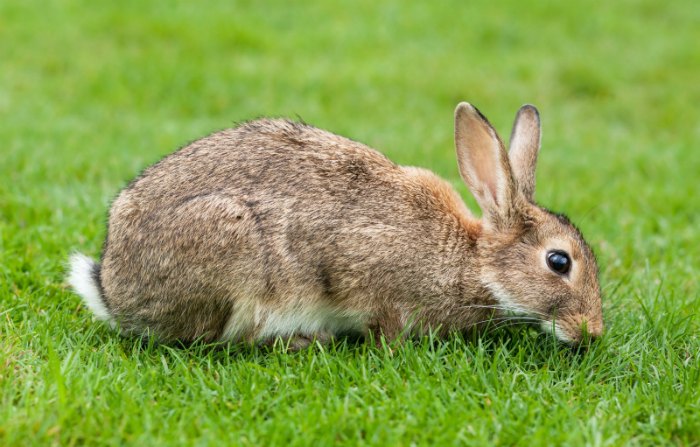 Now that Australia is again losing $600 million every year to environmental destruction by rabbits, they are set to unleash another biological bomb on rabbits later this year. This will be a variant of the RHD virus known as K5 (from S. Korea).

Unfortunately, I strongly doubt that three times will be a charm in Australia.

There already exist 4 variants of RHDV in Australia that no longer seriously affect the feral population. These include a Chinese strain, RHDVa, found amongst the rabbits in NW Sydney, and a French strain, RHDV2. (It is not known how these variants came to be present in Australia.) Scientists are trying to determine the relationship of these new strains to current vaccinations for RHDV.

The problem is: the virus is clearly able to mutate and adapt to the immune systems of rabbits. That vaccines confer only partial immunity (they stimulate antibodies but no cellular memory) may be contributing to the ability of the virus to mutate. K5 will be a fifth variant of the same calicivirus. There is no reason to believe it will do anything more than buy time for the Australian government to figure out some other way to destroy feral rabbits.

A couple years ago I was contacted by New Zealand biology students doing research on how to control the New Zealand feral rabbit population. My advice was to utilize dedicated trapping and hunting, donating the rabbit meat to homeless shelters. Large ranching operations in New Zealand hire a rabbit trapper who does nothing but trap and kill the rabbits that eat the forages meant for sheep and cattle. If they don't, whole hillsides get denuded, with nothing left for livestock.

Dedicated trapping and hunting is still my recommendation. Biological warfare will always have the same results – temporary, good-but-not-perfect success, and then a resurgence of animals with new and improved immunity to whatever agent was used. Perhaps if they add a second prong to their attack by increased hunting and trapping, they may actually achieve some success?


Like this newsletter?
Maybe your friends would too...



Your friends at Raising-Rabbits.com wish you a wonderful February 2016.

Enjoy your rabbits!