First Year Anniversary!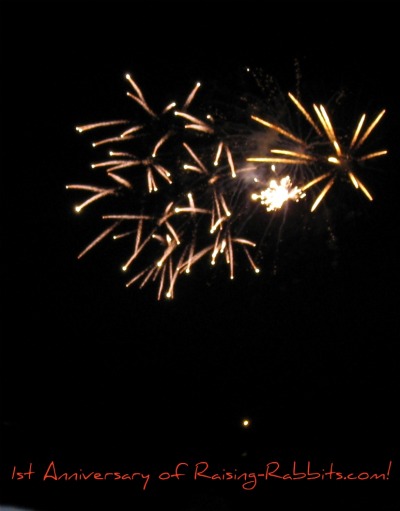 On November 17, 2010, Raising-Rabbits.com will be 1 year old!
Yep, a whole year online, and we've come a long way...
At the end of November 2009, the average number of daily visits was ... 8
At the end of October 2010, that number was over 600.
We're thrilled to offer quality rabbit information that helps you do successfully what we love to do - take care of our rabbits.
Because we love raising rabbits, we wanted to support and encourage anybody around the globe who owns or wants to own rabbits for a variety of reasons.
Many of our visitors love and own just one or two pet rabbits.


Many others raise rabbits for meat, either for their families, or as a means to augment their income during these hard times.


(Psst, those 'meat rabbit' raisers also have plenty of house rabbits and pet rabbits that will never see the inside of a stew-pot.)


There are many who, like ourselves, find that feeding a species-appropriate diet to their pets is a good way to make skin allergies go away, and to improve the overall health of their pet dogs and cats. Some of these folks don't eat rabbits themselves, but they raise rabbits as a more economical way to feed their canine and feline pets a correct diet.


A good number of people like to tan the furs of the rabbits that no longer need their pelts.
We're here to help - let us know if you need rabbit information that you can't find on Raising-Rabbits.com.
Thank you to all those around the globe who see value in
www.raising-rabbits.com. We appreciate you!
Besides all the free rabbit information....
At least TWO opportunities exist for you to participate in Raising-Rabbits:

1) You can write your own 'pages' on Raising-Rabbits.com!
We've been placing response forms at or near the bottom of more and more pages. The comments, responses and pictures you post become a part of Raising-Rabbits.com, and you get the credit. Your comments and questions help all of us learn about and understand rabbits better. And, it's easy to do ... Feel free to give it a try!

Many thanks to those who have already added their comments and questions to the website via the response forms.
2) Do you raise rabbits? For a few more months, you can advertise your rabbits for sale on Raising-Rabbits - for FREE.
We know from the queries we get that a LOT of folks are looking for rabbits to purchase. Raising-Rabbits can help connect you with buyers for your rabbits and bunnies. According to an advertiser in South Carolina, "We're getting a TON of referrals from your website!" Great - we're so glad we can help.

It's easy if you have a website or an email address. Check out our Rabbits For Sale pages and see what the listings look like. We list your town and state, and your website as your point of contact. If no website, we'll list your email address without a live link, so you won't have to worry about getting a bunch of spam.

If you want your ad to be listed, just Contact Us and send us your town, state, breeds of rabbits, website address, and any other pertinent information.
Thanks again for a great First Year!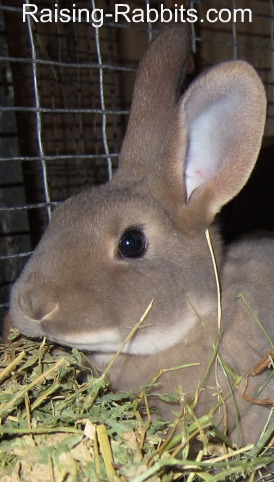 In celebration of a very good year that began in the middle of the month, we've decided to begin issuing our Rabbit Rhythm Ezine on or around the middle of each month.

So, look for our official November Rabbit Rhythm E-zine in two weeks. It'll contain the news, health tips, and ideas for pet and meat rabbit care that we share every month.

Like this Newsletter?

Forward this email to your friends!

Have a great November!







New!

Comments Have your say about what you just read! Leave me a comment in the box below.