Rabbit Rhythms of June
New Developments on the
Raising-Rabbits.com website:
First:
The Rabbit Raising Problem Solver, published by Storey Publications, is now available and in stock! Go to your local bookstore, or order it through Amazon.com.
OR, we're offering a serious discount for ordering it from Raising-Rabbits.com:
15% off
Books purchased from Raising-Rabbits are autographed
Go to Rabbit Raising Problem Solver for more information and to order your copy.
You can also order through our new Store (see below)
Storey has written a blog post on their website featuring Rabbit Raising Problem Solver – check it out!


Second:
We're working to make the Raising-Rabbits website even better than ever.
Our store, at https://store.raising-rabbits.com, is now live!
See the "s" in the https? That stands for secure. Our store is managed by 3dcart e-commerce software, and all transactions are fully encrypted so you can shop with peace of mind.
We're still in the process of stocking our online store with excellently built cages, carriers, toys, and other rabbit accessories essential for rabbit breeders.
As I write this, the products in the store are educational ones. But over the next few days and weeks, we will be stocking the store with all sorts of goodies:
All the tools you'll need to build your own cages
Top quality commercially constructed cages, carriers, trays, urine guards, and cage stands should you wish to cut straight to the chase and buy your cages.
There will be feeders, water bottles, and other rabbit accessories
You'll also find rabbit chew toys, beddings and resting boards for environmental enrichment for your bunnies.
Feel free to stop by the store, give us your feedback, and pick up the items you're in need of! (And especially, return in a week or two and see the new items in the store.)
Below: screenshot of our online storefront.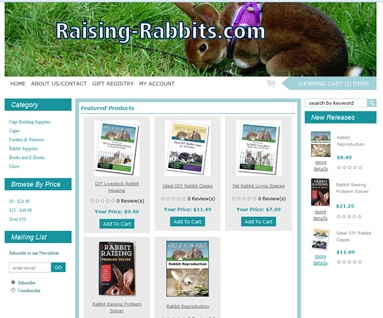 Overheard at Raising-Rabbits
Did you know?
A group of lions is called a pride.
A group of geese is called a gaggle.
A group of rabbits is called a warren, herd, colony or hop.
A group of rabbits hopping backward is called --- a receding hareline
Kari from Texas wrote in a Facebook post:
"Thank you! I am contemplating getting some Netherland Dwarfs. Before getting them I wanted to study the breed so the error rate will be diminished as much as is possible. Your site is WONDERFUL. In a few short hours I have learned about genetic factors, good and bad that I can utilize in my future show and breeding of the breed."
Thanks for the shout-out!

Kari found the information she needed at the Rabbit Genetics section.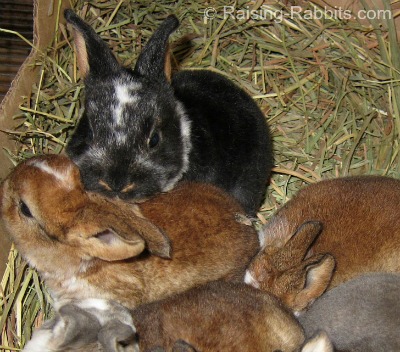 Healthy Rabbits
An anonymous individual recently posted just 5 words to the Pasteurella multocida page: "I don't believe in incurables."

I can appreciate the sentiment! Who likes to fall in love with a favorite pet, and then watch its health go downhill without at least trying something to fix the snuffles?

In the case of P. multocida, the problem is the germ's ability to hide in the body where the antibiotics cannot reach them, which is why snuffles is so poorly controlled as to be recognized as generally not curable.

(No one should be guilted into exhausting one's life savings in an effort to treat a disease with such a poor prognosis.)

That said, one or two, or ten, rabbits out of thousands of rabbits, DO get better and stay better with treatment.

Talking about Pasteurella treatments...



I've got great news for pet rabbit owners...maybe!

Enter the BunnyVac - a vaccine against Pasteurella multocida!

The BunnyVac has been on the market in the USA since May of 2013, and can be used both "on label" and "off label."

On Label:
The vaccine is labeled "for use in healthy rabbits as an aid in the prevention of pasteurellosis (snuffles)." In other words, if you use the vaccine as labeled, you'll vaccinate perfectly healthy rabbits in hopes that they will never come down with snuffles. Note that this vaccine must be repeated yearly for the life of the rabbit.

The BunnyVac is thought to have a 90% success rate, meaning one cannot be certain that all rabbits will develop immunity to Snuffles.

Off Label:
Any other use of the vaccine, for example, in already sick rabbits, is called off label use. And interestingly, if your pet rabbit's immune system is at least adequate, I'm told that off-label use might reduce or eliminate your rabbit's symptoms. In other words, using the vaccine as "immunotherapy" might make your rabbit completely asymptomatic, as long as its immune system is strong enough to respond to the vaccine by making antibodies.

Just know that until the essential rabbit studies are done, a rabbit treated off-label with the BunnyVac must be considered a carrier of Pasteurella. If you have 2 or more pets, therefore, it would be wise to vaccinate all of them every year.

Since the vaccine is so new, it will be interesting to see what percentage of sick vaccinated pet rabbits actually become asymptomatic, giving their owners several more years of enjoyment. The prospects are definitely exciting!

Use in Show Rabbits:
It is so tempting to think that a vaccine will be a magic bullet. It's not a 'panacea,' in the words of Mr. Bob Glass, the vaccine developer. I personally have huge reservations about the use of a pasteurella vaccine in show rabbit herds, for two main reasons:
Because of its ability to turn a rabbit into a silent carrier (this has to be assumed until the studies are done that can prove or disprove the statement)
Because it becomes near-impossible to do selective breeding for health once the vaccine is administered
I won't be using it in my herd; you'll find my reasons and concerns here:
https://www.raising-rabbits.com/vaccine-immunity.html
https://www.raising-rabbits.com/pasteurella-multocida-vaccine.html
Death is the evidence that some things are indeed incurable, and old age exacerbates the problem.


Rabbits in the News
Mix together kids, animals (especially rabbits), and a gifted photographer, and you'll discover heart-lifting magic.
This Flickr photostream features some really great photos of kids and their pets. Several of the photos feature rabbits, and are completely adorable.
http://blog.flickr.net/en/2014/03/21/mothers-storybook-photos-become-viral-sensation/
Thank You!
Raising-Rabbits.com has passed 900 'likes' thus far! Thank you to our many friends! Feel free to declare your appreciation for all things 'rabbit' by heading over to Raising-Rabbits and clicking the 'like' button at the top right. Thanks!

Additionally, our Facebook fan page, http://www.facebook.com/RaisingRabbits has reached over 650 'likes!' We appreciate all of you! I hope you'll swing by regularly and participate in the conversation on Facebook as well.


Like this newsletter?
Maybe your friends would too...

Your friends at Raising-Rabbits.com wish you a wonderful June, 2014.

Happy summer, and enjoy your rabbits!