Rabbit Rhythms of February
The chill of late winter still fills the air. The skies are blue, but absolutely frigid in the Pacific Northwest. (By 'frigid,' we mean slightly above freezing.) But while the environment is still chilly, rabbits' hormones are heating up.
By February, most rabbits are very happy to breed. Depending on where you live, rabbit breeding season is here to stay until at least August.
It is an exceedingly rare buck that can't figure out what to do when presented with a doe, no matter what time of year it is. If your buck lacks interest:
Put him on a diet
Check him for vent disease (rabbit syphilis - more info below)
A few more does may still be in 'winter' mode, hunkering down like a statue in the corner of the buck's cage.
Does don't "come into season." They are induced ovulators. This means that they will produce eggs on demand, as when mating occurs. Even if hunkered in the cage, the act of the buck riding the back of the doe and attempting to breed may help the doe to produce enough hormones that the doe will be willing the next time it is placed into the buck's cage.
Does that absolutely refuse to breed might also have health issues. Hopefully you've checked her hind end to ensure she's healthy. But, is there a chance she could have been exposed to rabbit syphilis? In an absence of symptoms, you'll need diagnostic tests that a vet can provide.
Does that are too fat also may refuse to breed.
Learn more about mating rabbits and additional tricks for getting the doe to cooperate at our Rabbit Mating page.


Healthy Rabbits
Rabbit Syphilis
We apologize in advance for showing you a really, um, painful picture. But, if you've seen such sores on one end or the other of your pet rabbits or breeding rabbits, we hope this information will help you cure your rabbits permanently.
Rabbit Syphilis is one disease that seriously impacts a rabbit's health.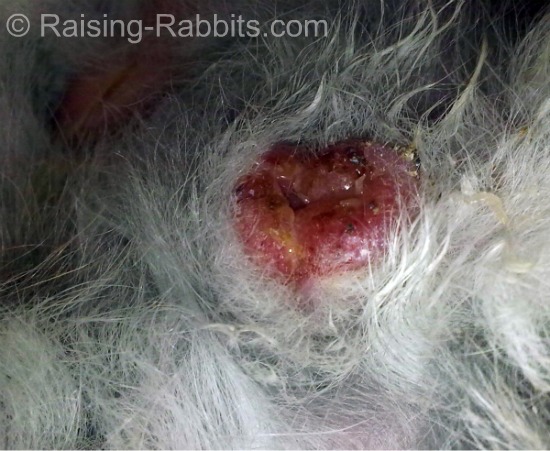 ...Ouch!
Rabbit syphilis (or 'vent disease') causes crusty, inflamed tender sores around the genitals. The sores can spread to the face and nose with grooming and coprophagy.
An infected animal will resist breeding due to the discomfort. But since it is contagious, one infected animal that is infectious but not yet showing symptoms can spread the disease to many other animals.
Pet owners are not exempt from the impact of rabbit syphilis. It is entirely possible that a pet rabbit could be infected, yet show no outward signs. In a certain percentage of rabbits the sores heal, but the causative bacteria (Treponema cuniculi) remains in the blood stream. This animal remains infectious.
If any of your pets mysteriously come down with crusty sores anywhere on the face, suspect rabbit syphilis, get a vet's diagnosis, and then treat the rabbit and all other adult rabbits it's been in contact with.
The treatment of choice is Penicillin, which will cure the rabbit. But, this is where you need a rabbit-savvy vet. The wrong type of penicillin and the wrong method of delivery will wipe out the rabbit's gut bacteria and will kill the rabbit.
For additional details, visit our Rabbit Syphilis page.


Rabbits in the News
EU legislation threatens US rabbit exports
"To maintain country-to-country relationships, the US Food and Drug Administration (FDA) is working to meet requests from the European Union (EU) to confirm the safety of US products.
"A current testing initiative conducted by FDA began with an audit conducted by the EU's Food and Veterinary Office last October. The results of the EU testing showed that the United States was not in compliance with several of the group's antibiotic regulations."
The European Union is well ahead of the USA when it comes to genetically modified plants (banned in the EU) and drug residues in the meats people consume. The USA has flunked the standards of the EU on both accounts. Rabbits were specifically mentioned in regard to harboring unacceptable drug residues.
How much better and simpler in the long run it would be to raise rabbits that stay healthy without needing extra care or medications. We recommend that rabbit farmers cull sick animals instead of medicating, and reserving preferential treatment only for those animals with valuable and/or irreplaceable genetics.
In the long run, the attention to health will result in improved operations, better customer service, and better overall health for both rabbits and people.
If only the FDA and USDA would similarly put health before big business.
EU legislation threatens US rabbit exports


The Economics of Rabbits
Kelly Rivard is a communicator involved in agriculture and obsessed with rabbits. As a teen, she raised several breeds of rabbits for 4-H and FFA.
Ms. Rivard has recently blogged about the value of raising rabbits. Not in dollars and cents, mind you, but in improving people's lives.
If you've ever wondered about, or even half-considered the idea of raising rabbits for food, this blog article is an excellent read.
New Developments
"I can't keep feeding my dogs dried waste products and dead dogs..."
(FB post at Homemade Pet Food)
No kidding, eh?!
2018 Update: Raising-Rabbits.com has been offering Raw Frozen Rabbit for pet consumption for a number of years now. See www.Raising-Rabbits.com/raw-rabbit.html.
Our carnivore pets' health is important. Now you can feed your dogs and cats raw meat pet food that is
Holistic-vet recommended
Species-appropriate
Ready-prepared.
It's great news, especially if you are not raising your own rabbits or chickens in order to feed your carnivore pets (and we know lots of breeders who do).

We highly recommend a raw diet for both dogs and cats.




Like this newsletter?
Maybe your friends would too...

Your friends at Raising-Rabbits.com wish you a wonderful February.

Enjoy your rabbits!