Rabbit Rhythms of April
Pre-Order Rabbit Raising Problem Solver and obtain a massive discount!
We've posted an Early Bird Special on our website, and we did this especially with YOU, our E-zine subscribers in mind!
For the next 10 days, or until March 31, 2014, your early bird purchase of Karen's new Q&A book answering a wide gamut of rabbit related questions will earn you:
10% off
FREE shipping
An autographed copy!
If you'd like to know more about the book go to Rabbit Raising Problem Solver.
Don't forget - at 12:01 a.m. on April 1, this deal goes away. Pre-order now to get the best discounts.



Overheard at Raising-Rabbits
Mandi in Oklahoma wrote:
"Can you please autograph my copy of your book?"
Yes indeed, Mandi! And we'll do you even better than that - a huge discount in your bottom line cost! Go buy your copy now, and Karen will sign it and send it the minute she gets her copies in the office. The order form can be found at:
www.Raising-Rabbits.com
www.Raising-Rabbits.com/rabbit-raising-problem-solver.html
(This huge discount is good until March 31, 2014)


We heard from Kaitlyn in Texas:
"I found this site while researching whether or not a pet rabbit would make a good companion for me. Though I still have a ways to go and much more to research, this site has been, and will continue to be, a priceless source of knowledge."

Thanks! What kind words. We never get tired of hearing good words, especially when they are honest ones!



Also seen - this humorous Easter meme...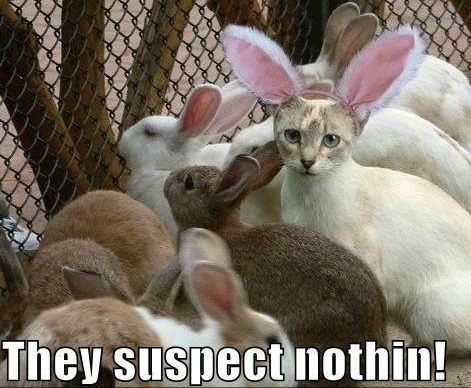 Healthy Rabbits
If you put your female rabbit in the male rabbit's cage in the springtime, the chances are very high that BOTH rabbits are fertile and anxious to breed.

What then do you do if you don't see a fall-off?

My friend Mary in Iowa put her doe "Bonnie" in the cage with the buck; the doe spent the entire time running from the buck.

31 days later?? Yep, babies. They were dead on the wire as Mary, who had watched the full breeding process, had not witnessed anything that resembled a breeding.

Poor Mary felt pretty bad! She had not given Bonnie a nest as she had not thought the doe needed one. This has happened to many of us at least once, so this is not written as criticism in the slightest.

But we can certainly take a hint from Mary's experience...

Whenever you put a doe in with a buck, and especially in springtime, even if you don't see a fall-off or obvious mating activity, you might consider that there is at least a chance your doe got bred despite a perceived lack of evidence.

If you've bred a doe but aren't sure it "took,":
Weigh the doe every couple days. If it begins to creep upwards, then maybe she's pregnant
Palpate at 10-12 days - feel anything? If no, then re-breed. If yes, you're in luck!
Not sure? If she starts pulling fur 4 weeks after breeding, then it's time to immediately throw a prepared nest box in her cage!
Rabbits in the News
It's Easter time! Here's your advance notice that the rabbit overpopulation propaganda mill is about to crank up into overdrive.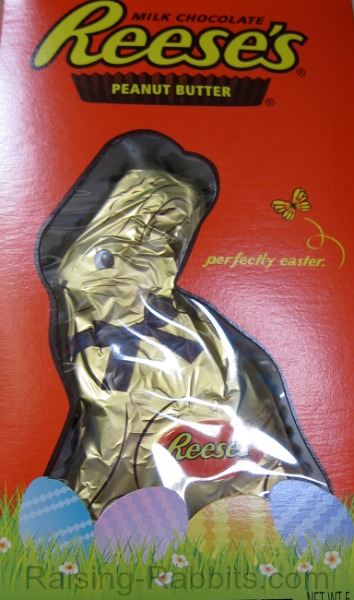 You're bound eventually to see at least one news story about a single unwanted rabbit that got dropped off at a shelter. This single story will likely hit the news with dire warnings about getting your kid a bunny for Easter.
"95% end up abandoned in shelters," they assert.
"Make yours chocolate," will be the punchline.
95%?? Really???
We did some numbers-crunching ourselves, along with some help from our friends over at the Rabbit Education Society, and found that the REAL percentage of rabbits abandoned all year long (not just after Easter) is very close to 1.9%.
Get the full report at Easter Rabbits.

Rest assured: Those news stories that you will soon encounter will be pure propaganda.
Are you really interested in getting an Easter rabbit?
One thing is certain: Don't allow yourself to get guilted out of a truly longed-for choice! Ignore the propaganda, temper your impulse until you are certain which choice to make, and then make your informed choice, whether furry OR chocolate!



Like this newsletter?
Maybe your friends would too...

Your friends at Raising-Rabbits.com wish you a wonderful April, 2014. Happy Easter!

Enjoy your rabbits!