Rabbit Rhythms of October
Keep Your Rabbits Healthy - a New E-Book
Of all the 500+ pages on Raising-Rabbits.com, the hub page for rabbit diseases is always one of the most heavily traveled. Rabbit owners of both pet rabbits and livestock rabbits need and appreciate accurate information that will help them help their furry friends and livestock animals to get better and stay better.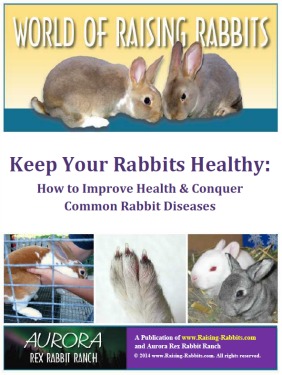 This is why, as a part of our project to provide our visitors with reliable rabbit care info, we wrote Keep Your Rabbits Healthy: How to Improve Health & Conquer Common Rabbit Diseases, which is our latest World of Raising Rabbits e-book.

Keep Your Rabbits Healthy contains ALL the rabbit health and rabbit diseases information found on the Raising-Rabbits website. We cleaned up the information, provided updated photos as needed, and enhanced the info where needed. And because much of the info is on the Raising-Rabbits website, your advantage in purchasing this e-book is in receiving an offline e-book, professionally prepared for you, available to you regardless of internet speeds or connectivity, at a laughably low price.

The Rabbit Raising Problem Solver, written by Karen Patry and published by the excellent Storey Publications, is our volume-of-choice for any information touching rabbit health or diseases, because it is somewhat more comprehensive. At roughly $20, counting shipping, it also provides a lot more info on all other facets of rabbit care as well.

If you cannot obtain this book, then the e-book, Keep Your Rabbits Healthy, is certainly a very good resource in its own right and with a rock bottom price - $5.99.

As we continue converting the Raising-Rabbits website into electronic documents, our rabbit diseases and rabbit health info is part of this process. You can hardly go wrong to have it on hand whenever you encounter any health challenges, or wish to know the best rabbit husbandry practices for keeping your rabbits healthy.

Click here for more information about Keep Your Rabbits Healthy, or to purchase your copy

See our other World of Raising Rabbits e-books here


Overheard ...
"Very Informative site. I intend to get into rabbit farming. Keep up the good work."

Thank you to Njiru (from Kenya) for posting via Facebook. He has already been doing his research!




Healthy Rabbits
Myxomatosis Adverse Effect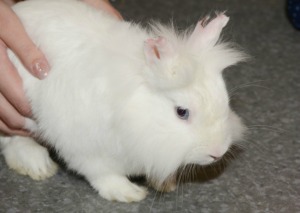 According to an English news article linked here, this rabbit's ears "snapped off" after exposure to myxomatosis (or the jab for myxy). (Photo Credit: SunderlandEcho.com)

Apparently the tips of the ears suffered gangrene and then fell off (or were dislodged). According to the above news article, this is "often seen in rabbits vaccinated against the illness and possibly as a reaction to the jab."

It is well known that viruses and bacteria alike can mutate as a response to its environment. Vaccinations will certainly change the environment by raising the immunity of the rabbit to certain strains of the target virus (or bacteria), and being ineffective for other strains.

Readers in the UK and Europe: have your rabbits experienced anything similar to that reported by this news story? What was the relationship of the vaccine to any ear or other damage in your rabbit(s)? Did you seek veterinary help? What explanations did the vet offer?


Rabbits in the News
Rabbit Hopping is Fun!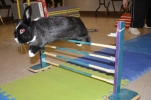 The Small Animal Channel published a very informative report on rabbit hopping, also known as rabbit show jumping. Rabbit hopping looks just like a very miniature equestrian jumping event – really cool!

(2018 Update: Small Animal Channel article is no longer available, but we found this one with excellent explanations and a very fun yet short video!)

(Photo Credit: Canadian Rabbit Hopping Club)

The linked article offers a history of rabbit hopping in the USA, and some excellent tips in case you're interested in training your own rabbits how to jump hurdles. It is one of the most informative stories I've seen on rabbit jumping.

Rabbit Show Jumping at the 2014 ARBA Convention:
The 2014 ARBA Convention taking place in Fort Worth, Texas over November 1 – 5, 2014, will feature a rabbit show jumping competition for the first time in the history of the USA national rabbit club.

If rabbit hopping interests you, then consider a membership in the American Hopping Association for Rabbits and Cavies.


Like this newsletter?
Maybe your friends would too...

Your friends at Raising-Rabbits.com wish you a wonderful October, 2014.

Happy Autumn, and enjoy your rabbits!