Whatnot Farm
Whatnot Farm includes a small herd of Giant Angora rabbits raised with attention to the ARBA standard of perfection and the goal of excellence in wool production.
Do you work with angora fiber? 
Do you enjoy raising and caring for rabbits? 
Are you open to the idea of making an extra dollar or two through a rabbit and wool hobby? 
Do you happen to need extra breeding stock for your own angora rabbit herd?
Do you live anywhere near Massachusetts?
If so, I have a feeling that Danilo and Whatnot Farm can help you.


About Whatnot Farm
In the suburbs of Massachusetts between the cities of Worcester and Boston, Danilo and his spouse, Roy, have been building an enterprise they have named Whatnot Farm, which encompasses an apiary, a chicken flock, and as of a year ago, a small herd of Giant Angora rabbits. 

"

Whatnot Farm

is about getting back to the basics through suburban agriculture. 

A salute to the past, with a contemporary approach. We celebrate the beauty and abundance of Nature, the generosity and wonder of Earth's creatures."


Rabbits Are Now Available from Whatnot Farm:
Several Giant Angora rabbits of various ages and colors are available, including Blue, Tortoiseshell, and Red Eye White (REW). (Updated 5/28/2021)
FOR SALE:


Whatnot Farm Rabbits and Rabbit Products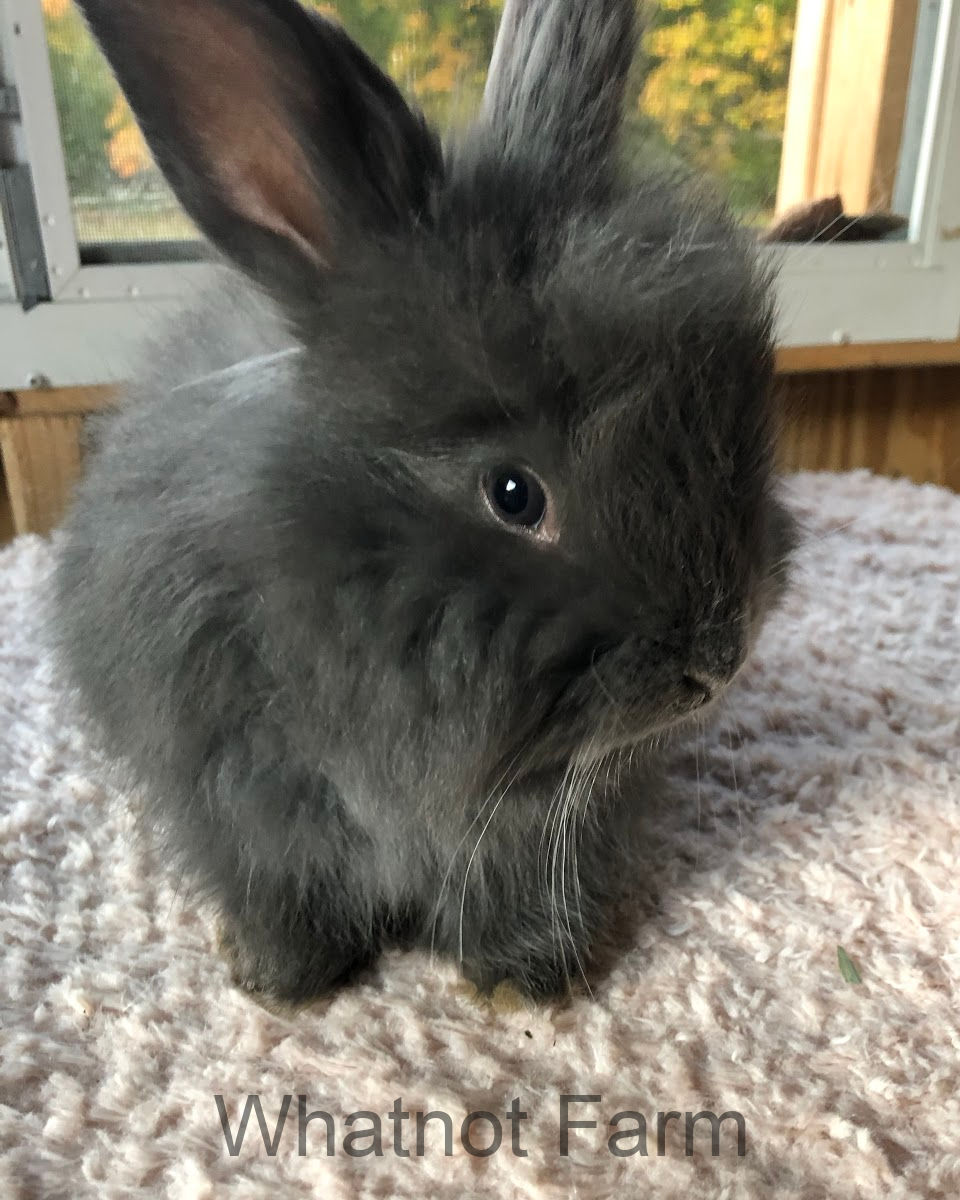 Blue Giant Angora doe
Whatnot Farm offers Giant Angora rabbits and other rabbit-related products, such as wool.

"About a year ago," says Danilo, "I began carding and spinning fiber into yarn for my knitting and I had the idea to raise Angoras for the wool. The enjoyment we get out of raising them is an added bonus."
An added bonus to what? To the joy of harvesting, preparing, and then producing a finished garment from the wool your rabbits produced for you.

Danilo starts with the raw wool. He cards it and spins it into yarn, sometimes blending it with various types of wool such as Finn, Alpaca, Pygora, or Leicester ("I like to experiment," he says). This gives him a rich stock of yarn that he can then knit into just about anything you might have a need for, including: lace, cable, sweaters, cardigans, shawls, and more. 

Danilo currently has three breeding rabbits, Harvey the buck, and his two does, Priscilla and Dorothy, and will soon be adding a couple juniors to the herd. His plan is to not go too much bigger than that, for now. But as he admits: "…You never know…."

Danilo recommends angoras for fiber artists!
"Angora rabbits are perfect for the person who wants to have their own wool to spin without having to get a bigger animal like a goat or alpaca. The bunnies are more cost efficient, and relatively easy to care for," especially for those in suburban settings.

Junior Rabbits Available
POINT OF CONTACT:
Danilo Nascimento-Kaler via email: 
whatnotfarm.ma @ gmail . com

Pedigreed Giant Angora Rabbits are Available. See photos.
They have several Giant Angora rabbits ready to adopt. The bunnies are various ages and colors, including Blue, Tortoiseshell, and Red Eye White (REW).

Some additional info about these rabbits:
All rabbits carry the recessive REW gene, meaning that even if you purchase colored rabbits, perhaps 50% of the offspring will be red-eyed-white

All rabbits have a pedigree.
Each rabbit should eventually produce approximately 3 pounds of wool per year.



Angora Fiber Available
Fiber Available: 

Raw Angora Wool
Carded Wool and Yarn ready to use
Some Angora/wool blend Yarns: Finn, Alpaca, Pygora, or Leicester
(Wool and yarn supplies are currently limited.)
Knitted Garments:
Plans are in the works to add finished garments to the offerings of Whatnot Farm. Please feel free to inquire with Danilo about availability. The contact point is currently email:
Danilo: whatnotfarm.ma @ gmail . com


REW Giant Angora Bunny
Meet Danilo, Owner of Whatnot Farm
Danilo was raised in an agricultural setting in Brazil. His memories include helping his parents with the chickens and goats. Eventually he moved to the USA, and has become a United States citizen. Danilo is a hair stylist by trade. But while he has been skillfully designing hair styles for 15 years, he has been knitting garments for 37 years.
His husband Roy, the other half of Whatnot Farm, was raised in upstate New York in a similar rural setting. The duo currently live in a suburban setting well outside of Boston, Massachusetts, while returning to a more natural lifestyle – an oasis in the suburbs.
In my interview with Danilo, the genuine nurturing heart of a farmer was apparent. "Raising rabbits is a lot of fun," he said. 
POINT OF CONTACT:
Danilo Nascimento-Kaler via email: 
whatnotfarm.ma @ gmail . com

The Whatnot Farm team is not aiming for mediocrity. "Our long term goal is to continue to breed an exceptional line of bunnies and perhaps expand their recognition in the American Rabbit Breeders Association" (ARBA).
To that end, Danilo hopes to begin showing at ARBA shows in the near future as part of his goal to keep improving on the genetic qualities of his rabbits.