Ruth's Royal Rabbits
Raising-Rabbits Featured Rabbitry!


Ruth's Royal Rabbits  offers sweet and socialized Holland Lops as fabulous pets!
Find Vienna Marked and multiple colors to choose from.
These adorable, lovable, pet Holland Lops are located in New Providence, New Jersey. 

https://www.ruthsroyalrabbits.com

Holland Lop rabbits are probably the second most beloved breed of rabbits out of up to 49 breeds recognized by the ARBA (number one would be Netherland Dwarfs, in case you wanted to know). 
Adult Holland Lops reach a maximum of 4 pounds if they are true to the Holland Lop breed standard, although some Holland Lops used only for breeding might weigh just a little more than that, depending on the genetic makeup. (For more details, see our page, Dwarf Rabbits.)
Holland Lops make great pets! And you can probably tell by the photos below that the Holland Lops raised by Ruth's Royal Rabbits are happily handled and have sweet personalities. When you adopt one of their sweet buns, you also get some transitional hay and feed, as well as a helpful instructional pamphlet, and they are happy to answer questions and give you follow up information. Ruth's does much more than sell you a rabbit; they help you adopt a beloved pet into your family.
Besides being sweet, look at their adorable floppy ears! 
Holland Lops are born with tiny ears but then, as they grow and get longer, their ears stand upright above their heads like regular rabbit ears. It is only when they get to three or four weeks old that the ears start to drop, sometimes one at a time, until they look like the lop ears we know and love. 

Holland Lops come in all sorts of colors and you can see some of them here. No matter what color they are, they always seem to love cuddles.
Ruth's Royal Rabbits tend to produce: 
Chestnut Agouti
Opal
Black
Solids
Vienna marked (the "V" gene that produces the blue eyes and various white patches.)
---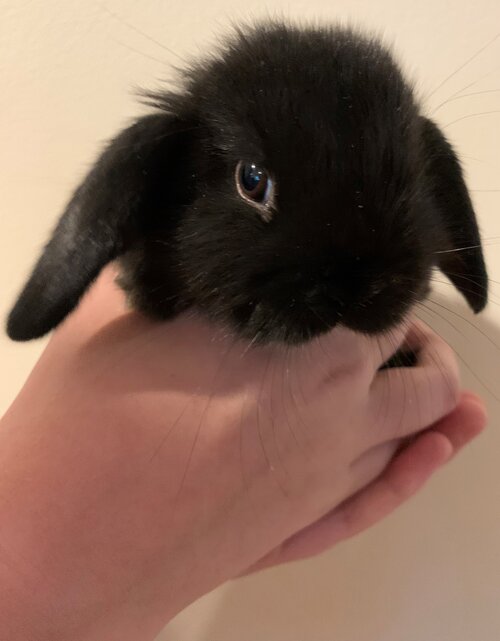 Holland Lops are a dwarf breed of bunny which means they're smaller than many other breeds of rabbit. They will get bigger than this, of course, but they'll never get too big to sit on your knee.

No-bunny is smarter than ME!!
Above: Holland Lops love playing with toys and can be easily trained to use a litter tray. 

---
How to reach Ruth's Royal Rabbits
This page is updated at least once a month. We think the rabbits listed here as being available might still be available at the time you are looking at this page. But, check with Sarah, owner of Ruth's Royal Rabbits, to verify, or to make a purchase or place a deposit on a bunny or bunnies that interest you.
Do you live in New Jersey, or within a radius you're willing to drive?
Ruth's Royal Rabbits is located in New Providence, NJ, 07974.
Contact Ruth's Royal Rabbits via email or through their website: 
Email: ruthsroyalrabbits @ gmail .com
Website: https://www.ruthsroyalrabbits.com/
Ruth's Royal Rabbits is registered with the American Rabbit Breeders Association.


---
Available Bunnies!
Check out these adorable cuties enjoying "a day at the beach!"
They are all currently available for sale. Bunnies can be reserved for a $50 deposit.
Their birthday is June 20th, 2021.
---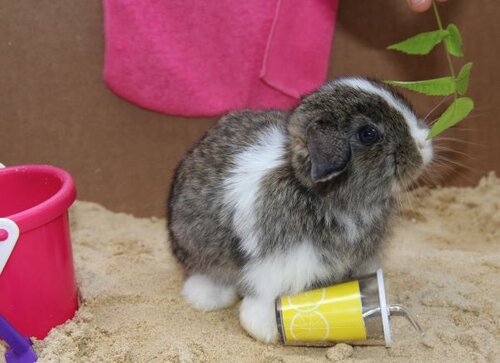 Bunnies love mint! Frisbee ($300) found some at the beach! Frisbee is a Vienna-Marked Chestnut-Agouti.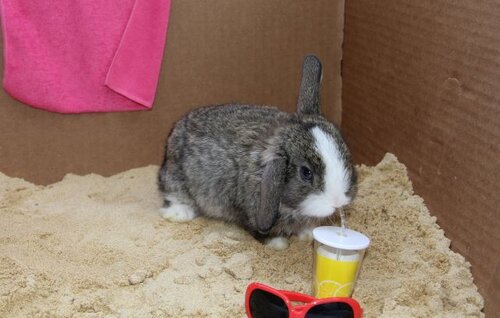 Fudge ($300), a blue-eyed sweetie, enjoying a sip of water. Fudge is Vienna-Marked Chestnut-Agouti.
Not Pictured:
Pearl ($300), a solid black cutie with dark eyes, is also available.
Go to Ruth's Royal Rabbits website to see ALL their available rabbits!
Orca ($300) having fun in a bucket. Check out those blue eyes! Orca is Vienna-Marked Black.
Ocean ($300) just loves everything about the beach. Ocean is a Vienna Marked Black.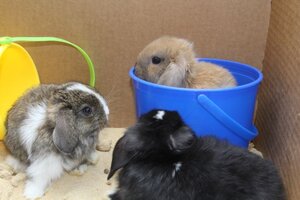 Sandy (in the bucket, $400) chats with Frisbee (left, $300) and Sunset ($300). Sandy is Fawn. Frisbee is Vienna-Marked Chestnut-Agouti. Sunset is Vienna-Marked Black.
---
Go to Ruth's Royal Rabbits website!
Reserve your bunny, or ask for more details


---
The Hares of Hogwarts
Oops, too late! All of these little guys have been adopted by loving muggles and are being properly spoiled.
---