Welcome to Mountain Sky Rabbitry

♡ Purebred Holland Lops ♡ 

We raise pedigreed Holland Lops in Knoxville, Tennessee, in the foothills of the Great Smoky Mountains. Our sweet baby bunnies come in an array of colors, and most are blue eyed! 
Happy days! New baby bunnies were just born!


March 14th, 2022 - Mountain Sky is happy to announce the arrivals of new bundles of fluffy joy.


March 31st, 2022 - Just in time for their first pictures, all of the babies have been reserved for adoption.


When you look at these darling pictures, you can see why.


Mountain Sky does have a waiting list; click here to find out how you can sign up.



Why adopt from Mountain Sky Rabbitry?


Bunnies from us are well socialized, litter trained, raised in great indoor conditions, and completely healthy to our knowledge!
When you adopt from a pet store, feed store, or a less reputable rabbitry, you run a risk of buying a mean, diseased, or scared bunny.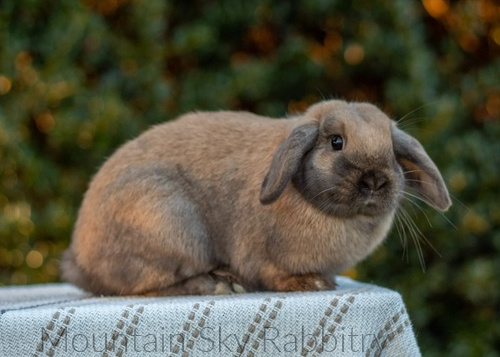 This isn't just to sing our own praises, or to talk badly of any of these places, but we've had experience! 

Seeing where some of these pet/feed store bunnies come from has really opened our eyes and is part of why we raise bunnies.






We want you to be completely satisfied with your rabbit from Mountain Sky Rabbitry, and we want to help you all we can along the way.

We Offer Lifetime Support!

What do you mean by lifetime support?


We are always here to answer questions or concerns long after you have taken your bunny home!

We love keeping in contact with our buns and appreciate updates all the time! If you can no longer take care of your bunny, PLEASE contact us before selling.

We will be able to help you find a good home where the bunny will get a high level of care.

We do have wonderful adult bunnies available for adoption, for people who would prefer a more mature, calmer pet or emotional support companion. Find out more here: Mountain Sky Adult Adoptions

"I've fallen in love and I'm ready to adopt." 
"I love your baby bunnies, but I'm not from Tennessee!"

Mountain Sky Rabbitry Contact Information



Mountain Sky Rabbitry

Location:
Knoxville, Tennessee, USA

Website:   
Mountain Sky Rabbitry

Email:
mountainskyrabbitry @ gmail. com

Price Range:
$100 - $300


The Story of Mountain Sky Rabbitry
Precious Vienna Marked Chocolate bunny with blue eyes at Mountain Sky Rabbitry
Mountain Sky Rabbitry was founded by two friends who live in Knoxville TN. Our names are Nikolai and Larke, and we love bunnies!
The first bunny we ever purchased was an orange Mini Rex doe named Honey. She was our pet and the sweetest and cuddliest rabbit ever! She lived with us for almost 5 years! At that time, an opportunity for her to be a therapy animal for someone came up, and we couldn't pass it up.
Once we sold her, we went for a couple years with no bunnies, and then finally decided to buy two black and white Dutch "boys." All was well until one of the "boys" had babies! We were so excited and couldn't wait to raise the little guys into bunnies we were proud of!
1 litter turned into 2, and then 4, and on and on. We kept breeding Dutch bunnies until a couple years ago. We tried a few different breeds, New Zealand, Rex, etc., until we fell in love with the Holland Lop breed! Now we've started a rabbitry so we can do something we love every day.
We breed and raise Holland Lops with unique colorings and markings in the foothills of the Smoky Mountains. Mountain Sky Rabbitry is  registered with the American Rabbit Breeder Association (ARBA).


We focus on providing quality bunnies with pet temperaments. Raised indoors, litter trained, and given plenty of love, caring, and treats, each little bun is ready to be part of your family. Our bunnies are raised on a diet of alfalfa pellets, timothy hay, fresh garden greens, and of course, treats! They are held and spoiled every day, preparing them for a life full of snuggles.


♡

The Real Workers Behind the Scenes ♡

Meet our wonderful herd of Holland Lops here!
These gorgeous Holland Lops are the heart and soul of our rabbitry, and we love them all to bits. We keep our herd relatively small so we are able to hand-raise each bunny individually. 

 ♡ Hear What Our Customers Have to Say ♡

Meredith S. 
Slate + Opal 
Chocolate VM + BEW 
February 2022
This was our first time getting a bunny. Mountain Sky Rabbitry was very knowledgeable and answered all of my questions. They gave us frequent updates on our rabbits and were a pleasure to work with. They have a very clean rabbitry and healthy rabbits. Thank you so much for the two newest members of our family!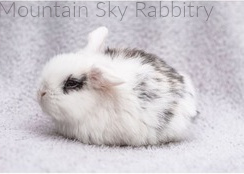 Kristen P. 
Marble + Quartz 
Tricolor VM + Broken Magpie VM 
February 2022
We adopted two bunnies from Mountain Sky Rabbitry in February. Being new to owning rabbits, we were a little overwhelmed with what we really needed for them and how to take care of them. Mountain Sky Rabbitry was so open and welcoming to all of our questions and provided us with a wealth of information to become prepared. Their bunnies are well cared for and we were so pleased with our two girls that we adopted. It was evident that they had been socialized routinely because even though we brought them to a new environment, they adjusted well to our family and have been so friendly and loving. I would highly recommend Mountain Sky Rabbitry to anyone desiring to add a bunny to their family!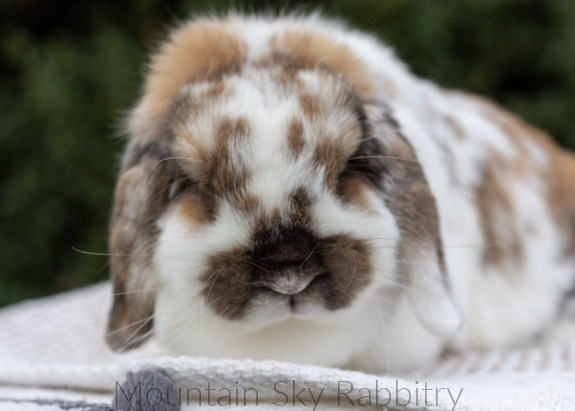 Sierra S. 
Ella
Broken Black Tort
December 2021

"I absolutely loved getting my bunny from Mountain Sky Rabbitry! I had been looking for months to find the right bunny and when I went, the family was so sweet and welcoming. All of the bunnies are taken care of so well. We ended up getting a wonderful 3 year old bunny that fits in with the rest of the family. If I do get another bunny, I definitely know where I will be getting it next time!"

Previous Litters
January 2022

Have Questions? 



We love talking bunnies! Email us at mountainskyrabbitry @ gmail. com with any questions, concerns, or just to comment! We do have a FAQ page on our website, so check there to make sure your question hasn't already been answered.