Lexy's Bunny Nether-Land
Lexy's Bunny Nether-Land

♡ Netherland Dwarfs ♡ 
I am Alexandra O'Neal, owner of Lexy's Bunny Nether-Land.
It is an indoor rabbitry where I personally tend to my Netherland Dwarfs.
I handle each one daily and have given them all names. 


Lexy's Bunny Nether-Land is in the heart of Eastern Tennessee, in the quaint city of Kingston. We are 3 hours due east of Nashville and 45 minutes due west of Knoxville, right off Interstate 40.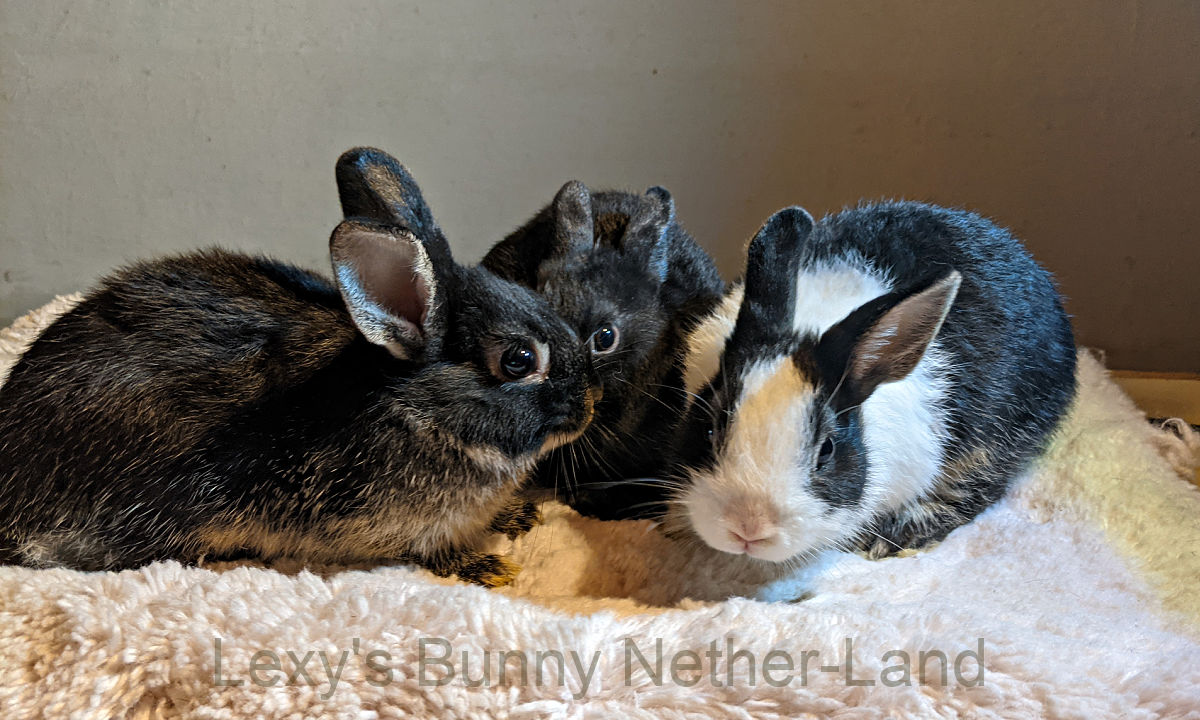 Three bunnies at Lexy's Bunny Nether-Land
How do we train our rabbits?
My babies are handled the day they open their eyes and daily from then on. It makes a difference.

It's very important to provide docile and sweet natured rabbits to new homes from my litters. I litter box train my bunnies, and the babies are well on the way to being fully trained by eight weeks. They are all cuddled and doted on daily. 


I spend the necessary time with each litter to ensure that my babies are well-handled, healthy, and most of all, happy to be coddled.

---
Introducing Violet, our new breeding doe. We regulary adopt new bunny parents so we have the healthiest babies possible.
How I Got Started
I have loved pet rabbits since I was a child. I always wanted miniature and dwarf animals so Netherland Dwarf rabbits were perfect for me. When I first started looking for them I only found ones that were not quite what I expected for a tame, friendly and docile bunny.
That's when I decided that people who are looking for a great pet or breeding quality Netherland Dwarf would  probably want the same qualities that I was looking for. This motivates me to raise bunnies that are tame, friendly and docile.

---

I have only five breeding adults as I don't plan to just pump out babies. I carefully breed the females to be pet, breeding, or show rabbits. I strive to have healthy,  docile and beautiful Netherland Dwarf Bunnies, not to sell bunches of untamed rabbits. 
Big news! We are adding Holland Lops and Lionheads to our bunny family!
Holland Lop cuteness!

Baby Lionhead Rabbit.
That's a lot of fluff!
I sell adults, both male and female, but especially baby rabbits. I have both pedigreed and non-pedigreed bunnies, but all of my rabbits are cared for with the highest regard to their well being. 

All my rabbits are handled daily, litter box trained and bred for temperament. From the moment the kits are born, until they get adopted as babies or adults, my rabbits are trained and socialized to be a happy member of your family. 

New Babies!
We have 5 babies that we will be putting up for adoption Thanksgiving Week, 2021.  Look at those little faces!
Contact us to reserve your bunny.
| | |
| --- | --- |
| Beautiful babies at Lexy's Bunny Netherland | What sweet little fluffles! |
Just in time for Christmas, 2021! 
Four little festive fluffs that will hop into your heart!
Contact us to reserve your bunny.
4 Christmas Kits waiting for adoption!


The bunnies were nestled all snug in their bed,
while visions of bananas danced in their heads...

Lexy's Bunny Nether-Land Contact Information
Phone:  (423) 463 - 9722
Email: lexy.onealintn @ gmail. com
What else do you get when you adopt a rabbit from Lexy's?
I supply a bag of food to help prevent any upset stomach issues with sudden diet change. All of my rabbits are trained with dehydrated fruit and they will be sent to their new homes with a bag of fruit to ease the transition to a new caregiver.
Pricing:
Contact me directly for availability of adults or babies, as well as pricing for each.

---