Knit Caps
Knit Caps: Diana's Designs supplies the Raising-Rabbits Store with beautiful, high quality knit caps knitted with animal fiber blend yarns for ultimate warmth.
Beanie cap, beanie hat, or knit beanie - whatever you call it, knit caps by Diana's Designs are knit with love out of angora wool (goat, rabbit) and wool or acrylic, helping to keep you warm through the coldest days.
It was probably 10 years ago that I purchased an angora and wool blend beanie cap from an angora rabbit breeder. It set me back around USD$30, which I thought was an exorbitant price at the time. 

But you know what? When the weather turns cold, THAT is the best cap EVER! It is the cap I immediately reach for. I wear it doing chores. I wear it to town while doing errands. I wear it to church, even. I wear it everywhere. It keeps me warm even when it gets wet from rain or snow. I haven't for a minute regretted the dollars spent.
---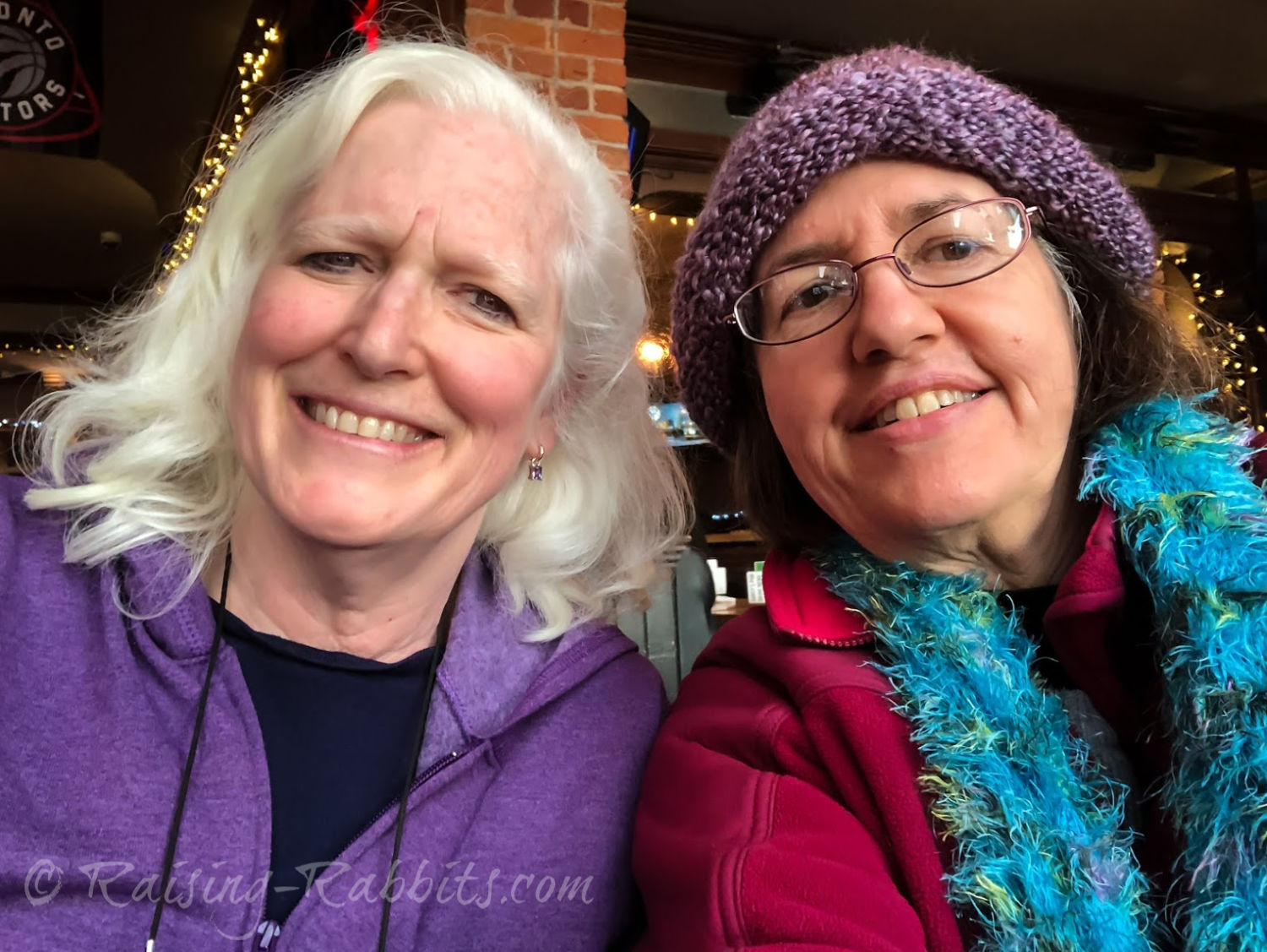 More recently, my good friend Diana gifted me with a beautiful lavender knit beanie cap. I love it! 
I'm wearing it in the photo at left, during a girl's outing to Victoria, BC, Canada. We had just stepped out of the near-freezing December air into a restaurant in downtown Victoria.
That's Diana on the left with her beautiful light hair and blazing smile. Her knit cap served me very well! 
That's when I learned that Diana is a skilled artisan, and as owner of Diana's Designs, was willing to produce top quality animal fiber knit caps for Raising-Rabbits.  
---
Animal Fiber Knit Caps are the Warmest
Rabbit breeders know that there are no substitutes for keeping naked newborn rabbit kits warm in the nestbox outside of their mama's own pulled fur. At least, there are no known non-animal-fiber substitutes that will reliably keep the kits warm and alive if the doe has failed to pull enough of her own fur to line and cover the nest.
In the case of humans, much of a body's heat escapes through the top of the head.
Why just let that heat leak slowly out into the freezing air? 
Instead, use a cap made with animal fibers!
Knit caps that do the best job of keeping folks warm during the really frigid dead-of-winter days are the ones that include a percentage of animal fiber in the yarn. It doesn't always require huge percentages of wool or angora. Rabbit angora fibers alone are almost too warm. Instead, yarn spinners typically mix fibers - including various percentages of very warm angora, warm wool, and also some acrylic or other fiber.


Knit Caps by Diana's Designs
Need a really warm cap that is also bright and stylish? Knit caps by Diana's Designs will keep anyone snug and warm.

Assortment of Knit Cap Colors and Fibers

These are beautiful caps with luxurious loft and halos, evidence of the desirable angora fiber.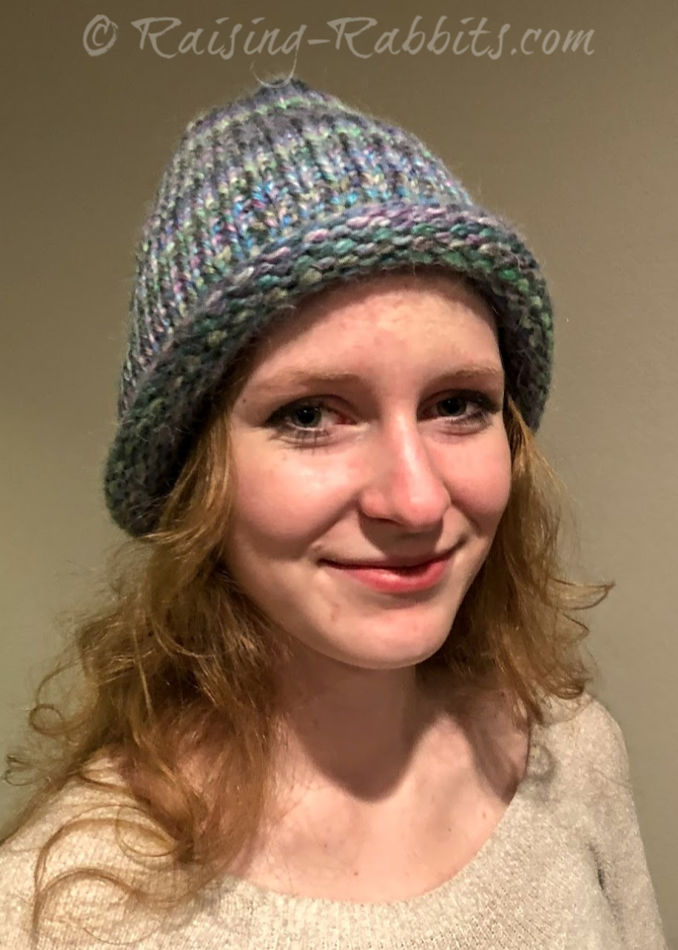 Diana's knit caps are one size fits all. 


Brim naturally curls into a soft and smooth brim, tastefully framing the wearer's face.


Diana's knit caps are available in a variety of colors, and this variety will increase.


These knit caps are made of 30% angora goat and 70% acrylic yarn blend, or a triple yarn blend, including angora and wool.
Meghan, our own amazing, multi-talented administrative assistant
can now add modeling to her resume!

---
More Colors, Blends, and Styles Coming  
Introductory Fiber blends include wool, angora goat, and acrylic. Coming soon: Fiber blends including Angora rabbit.
Introductory Colors: Diana currently offers the colors and designs seen on this page. Please let us know if you'd like a particular color or style. Allow 2 weeks for shipping.
Coming soon: Beanies for men.
Click Here to Purchase Diana's Design Knit Cap with Rolled Rim

Diana is offering 15% off to the first 5 orders!
---
30% Angora Goat/70% Acrylic Blend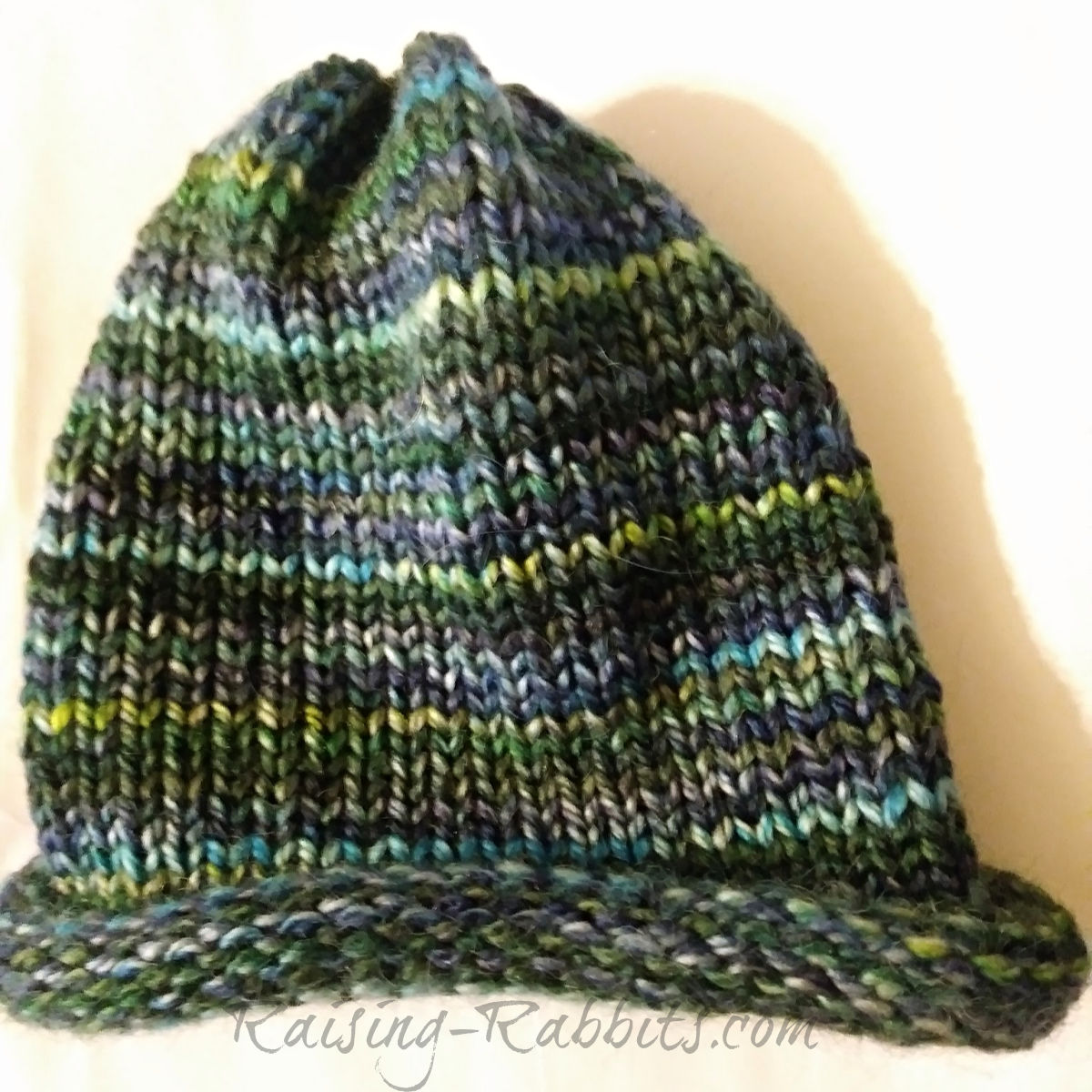 Green-turquoise-navy multicolor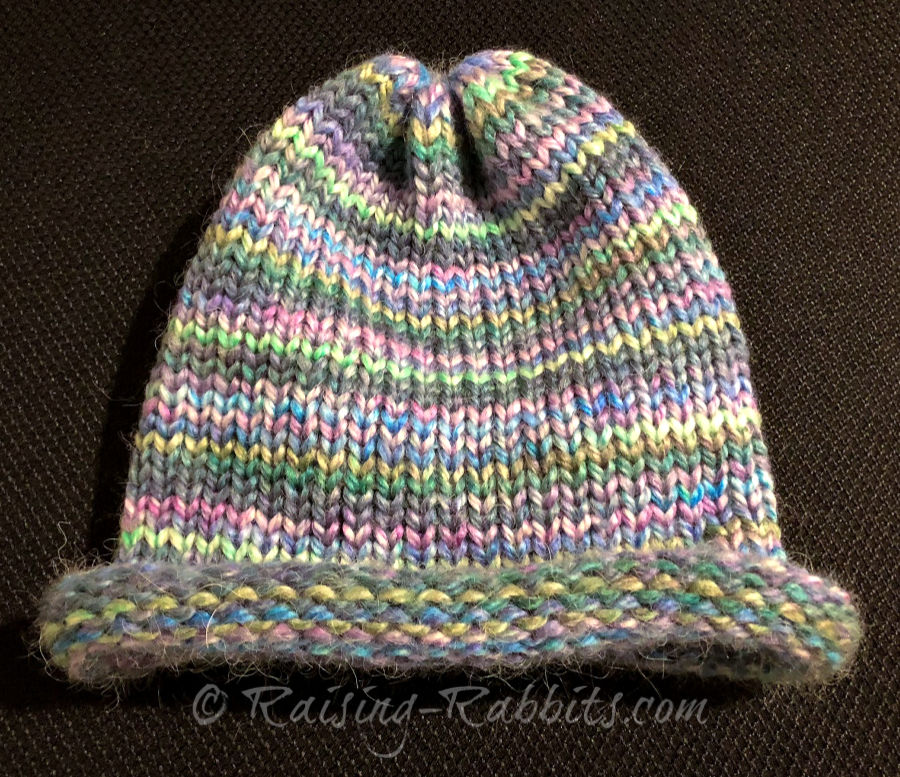 Multi-colored knit cap.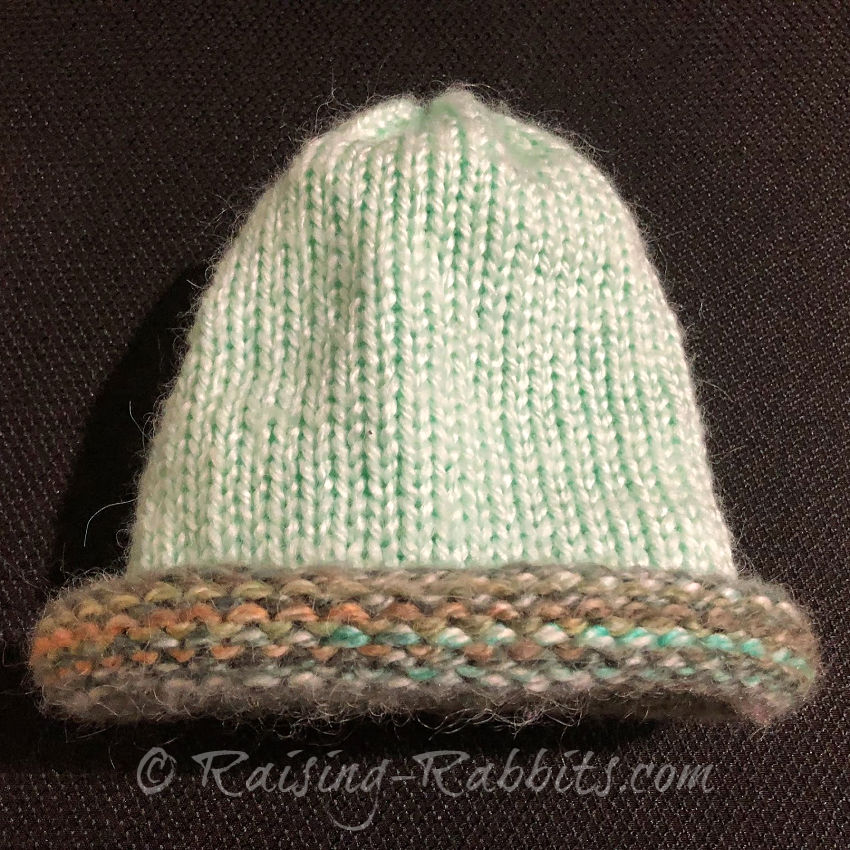 Mint colored cap, variegated brim.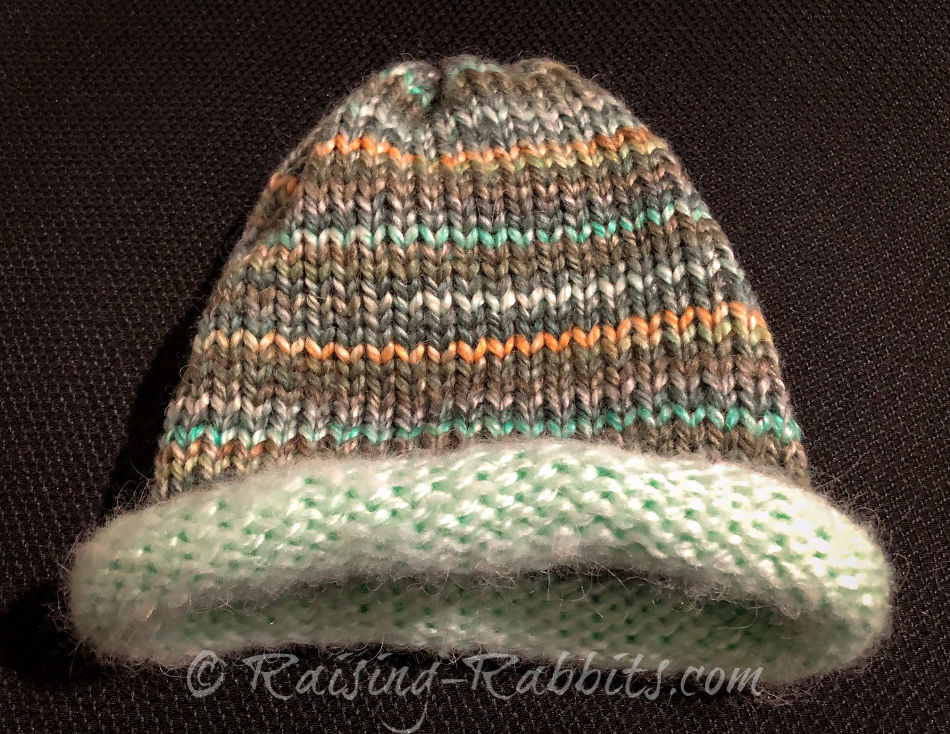 Warm toned variegated cap, mint colored brim.
---
20% Angora Goat / 20% Wool / 60% Premium Acrylic Blend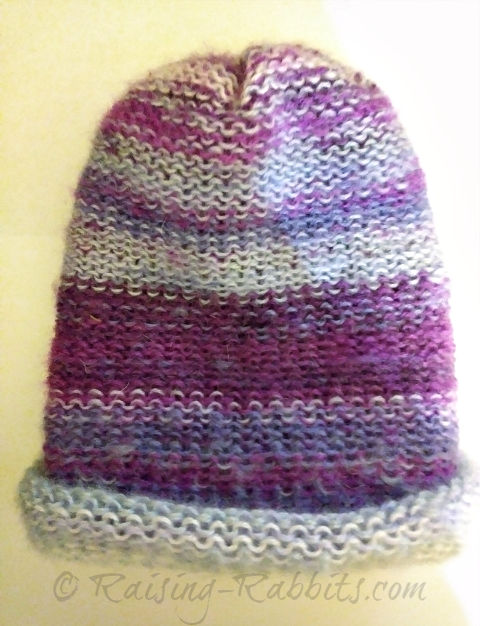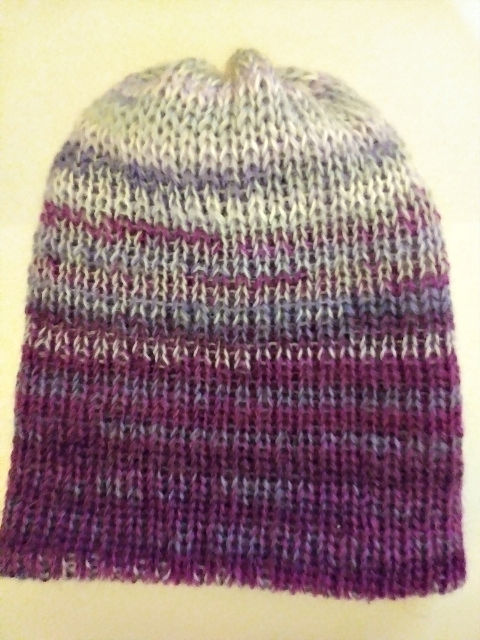 Purple/Lavender: 20% angora goat, 20% wool, 60% premium acrylic.
Double-layered knit - the loft or halo is evident on both the outside and inside of these caps.
Differently patterned weave.
Click Here to Purchase Diana's Design Knit Cap with Rolled Rim

Diana is offering 15% off to the first 5 orders!

About Diana's Designs
Diana Mullins is the knitting artist behind Diana's Designs. She lives in Port Angeles, Washington.
Diana learned how to knit at age six, while on a family trip to the Pacific Northwest. She's been honing her skills ever since. 
She and her husband work together by day in his law practice. At night she launches into her knitting projects. "Knitting," she says, "is a great way for me to share something of myself with others."


---