Chicken and Bear Rabbitry
~ Featured Rabbitry ~

♡ Sweet Holland Lops ♡ 
Our story: WE LOVE RABBITS! (Who doesn't?) But seriously, we adore our rabbits, and that's why we breed them.

CHICKEN AND BEAR RABBITRY got named after us because we're hilarious, and cute, and so in love, and we like it! My husband's nickname is Chicken (Alexa misspoke his name and called him "Chicken" while we were dating, and I ran with it!) and my nickname is Bear, or Sweet Allie Bear. So, of course we had to name our rabbitry after ourselves, and give it something unique and special! 
The truth about how and why we got started?
I saw a gif of a rabbit one day and it was ADORABLE! Three days later I had two rabbits. Now, my husband and I have a small herd that we completely adore! We plan on keeping it small, but somehow it just keeps growing! Right now we have 5 adult does and 5 adult bucks. And tons of little babies, with more always on the way!
So far, we have stuck with Holland Lops.
Something about them just gives us all the feels! They're the cutest breed out there... AM I RIGHT?


Now I know everyone says this, but our bunnies are the absolute SWEETEST!

They're handled from day one (with lots of care, of course!) We spend hours with them every day, and they are very used to being held and handled. We're a family (of 2!) with anxiety, and these little fluff balls are good for our souls! So, of course, we like to play with them and interact as much as we can!
Plus, we have the best little mama does in the world, so between us and them, these cuties are generally spoiled with love and affection! That has always been reflected in their personalities!


Contact Info for Chicken and Bear Rabbitry

Four tiny Holland Lop kits.
---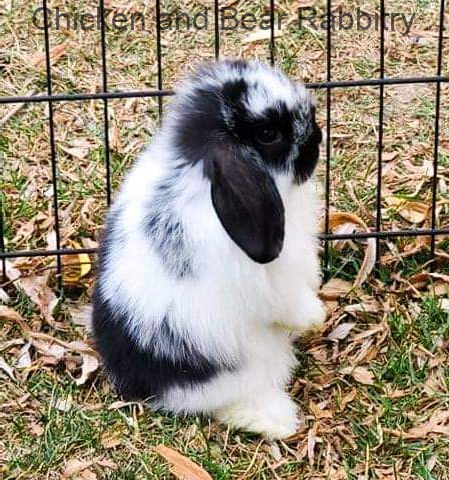 Broken black Holland Lop.

Our Holland Lops are Purebred! Our bunnies also come pedigreed if requested!
We have a variety of colors, including solid blacks, otters, torts, magpies, harlequins, chinchillas, and a few brokens! Plus, we always seem to have at least one surprise color in each litter, which is what makes breeding so fun and fascinating! 
---
If you don't know much about rabbits, we're here to answer any questions!
If we don't have an answer, we know some awesome peeps that will. We always give a little informational pamphlet to anyone that adopts from us. And, we always send transitional feed with our bunnies!
So if you're looking, let us know! We'd be happy to help you find what your looking for, answer any questions you have, and, above all else, find a wonderful, loving home for our little angels!