Rabbit Rhythms of January
It's a new year already! For many of us, the air is frigid and the ground frozen.
Rabbits typically love the cold, but the 'love' may not extend all the way to sub-sub-freezing, "ice-block-solid" kinds of cold. If your weather is dipping into the minus-10's or colder (F), it would be wise to start providing some extra insulation for your outdoor rabbits, especially if their space is not heated.
Try this trick: Stuff the cage full of straw! The straw is an excellent insulator as it traps air in the hollow shafts. The rabbit will chew some of it, tunnel into some of it, rest on some, and generally remain much warmer despite the sub-freezing temperatures.
Always ensure the rabbit remains dry and out of drafts.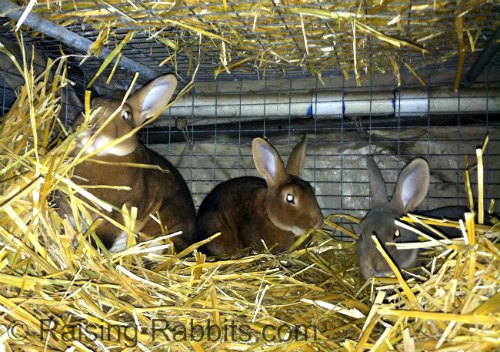 The cage has a layer of straw on top of the cage, and 6-8 inches of straw inside the cage. In truly freezing weather, you can fill the cage nearly to the top.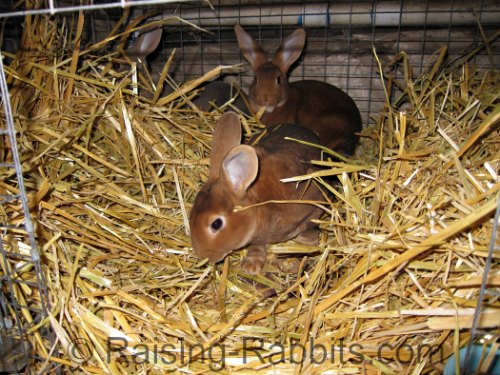 Healthy Rabbits
Answers to Last Month's
"What's Wrong With This Rabbit?"
Last month we explored the symptoms of a 3-year-old female pet Netherland Dwarf rabbit which had not been eating its pellets for 3 weeks, refused to eat hay, and had stopped drinking for the prior 3 days. It was up to you to correctly identify the problem and come up with solutions. Some of you did post your responses on Raising-Rabbits' Facebook page, thank you! It was fun.

Here is what the problem looked like to me. I'm not a vet, remember, so this is my unofficial 'diagnosis:'

The rabbit was in the end-stage of gastric stasis. It had been molting, and then had probably developed a fur block. When the far end of the stomach is blocked, there is no way for it to empty. The rabbit stops eating and drinking, and eventually starves to death or dies of liver failure.

This rabbit did die. After three weeks of no eating, it was way too late to save this rabbit. But even if the owner could have implemented all these suggestions, if a rabbit cannot be coaxed to eat the less-appetizing hay when extra fiber is desperately needed, it does not bode well for the animal's survival.

Treatment

To treat fur block/gastric stasis, the intestinal slow-down needs to be addressed IMMEDIATELY upon recognizing that your rabbit's eating has slowed down. If you know how much your rabbit eats each day in order to maintain health without getting fat, you will be better equipped to recognize when a rabbit starts to go off its feed, to provide help right away, and to prevent a failure to survive.

If the rabbit's eating slows way down, first check its water. They won't eat if they don't have water. If there's plenty of water, then here are some tricks to avert a fur block:
Remove all food. Feed only grass hay or timothy hay. Hay provides low nutrients and high fiber. This fiber helps to increase the motility, or movement, of the intestinal tract. If the contents are moving, then small clumps of fur can also move along, preventing a massive felted blockage in the stomach.
Offer parsley along with the hay if you like. It may help to keep the rabbit eating and to help prevent the GI tract from completely stalling out.
Provide plenty of clean water 24/7. This is to prevent dehydration, which can encourage the development of fur block by reducing the moisture in the stomach and compressing the contents into a clump.
Hay and water for 24 - 48 hours is sufficient to fix the problem most of the time.
Other treatments must be implemented very early in the course of the blockage. Mineral oil and enzyme tablets can help, as can lightly flavoring the water to coax the rabbit to drink.
Does your rabbit seem to be prone to go off its feed when molting? Try adding meat tenderizer, 1/4 cc, to its water each day while it is in the throes of a molt. This will help liquify the proteins that bind a fur ball together, allowing it to break apart bit by bit.



Rabbits in the News
I discovered this synopsis of the book, Watership Down, and then realized I have never read the book. This oversight shall be rectified soon!

Watership Down is a fictional tale of the lives of a warren of rabbits by the famed author, Richard Adams. The book has been "a phenomenal worldwide bestseller" for more than 40 years, a "timeless classic and one of the most beloved novels of all time." So says the blurb at Amazon.com.



Like this newsletter?
Maybe your friends would too...

Your friends at Raising-Rabbits.com wish you a wonderful January 2014 and a Happy New Year.

Enjoy your rabbits!