Rabbit Rhythms of August
Get Ready for Show Time!

Rabbit shows can be very exciting and rewarding for both children and adults! While rabbit shows typically take a hiatus during the dog days of August, our State and County Fairs are ramping up into full gear.

Many of these fairs feature ARBA-sanctioned rabbit shows.

Have you ever wondered about what goes on at a rabbit show, and what the value is in showing rabbits? If so, you're in luck, as the documentary film, Rabbit Fever, is scheduled to be released on September 12. This film will tell you ALL about showing rabbits, from the eyes of 5 high-schoolers active in raising and showing their rabbits.

Here is the 2:12 minute trailer. We highly recommend an advance-purchase of the Rabbit Fever DVD! (We've snagged our copy already - advance orders come with a free T-Shirt!)





(Or click here to watch trailer on You Tube)

To learn more or to pre-purchase your own copy, go to RabbitFever.com!

Perhaps raising and showing rabbits is a passion that your own children would love to cultivate, if they only knew...?





Individual rabbit shows will pick up again in September

Now is the time to evaluate your rabbits and see which of them might impress a rabbit judge!

Purchase the current ARBA Standard of Perfection here.

Find rabbit shows in your area here.



Rabbits in the News
What do you think about bringing your rabbit into CHURCH??!
Praise for All God's Creatures at Pet Service - Kids and pets are welcome at this church service.
Cool! The idea is to offer extra divine blessings for the special animals and pets of the parishioners and their children and friends.
"If the weather is good, we will hold it outdoors. If it is raining, the animals will all be welcome inside. The aim is to involve families and youngsters... People's pets are important to them and also important to Jesus, too, as it says in the Bible."
Yes - "Let the little children come unto Me, for of such is the Kingdom of God" ... And why not bless the little children AND their pet bunnies, frogs, and ponies?!
The pet service will be held September 9 at 4 pm.
Sounds like fun to us. :-)
Rabbit Health
All-Wire Cages - Bain or Boon?
Well, that all depends on who you ask.
Multiple scientific studies have been done, so you no longer have to rely on others' opinions!
Our friends at Shiny Satins Rabbitry have done some studying on the topic of wire mesh cages, and have published their conclusions here: http://shinysatins.weebly.com/wire-floors.html. They wrote:
"Wire floors are often the best choice for keeping a rabbit clean, healthy and comfortable."
From the same article: "Because rabbits' toenails extend beyond the tips of their toes even when properly trimmed, in the wild they would sink into the ground to provide traction and allow the foot to sit flat on the ground. Keeping a rabbit on a solid surface without much give (such as carpet, wood or linoleum) forces them to sit on the backs of their heels because the toenails are pushed up instead of sinking into the surface."
This is why it is always good to periodically check your rabbits' feet for sores, even (or especially) when they are house rabbits.
On an all-wire surface, however, the toenails can drop into the spaces and thereby allow the toes to align correctly. This exposes the bony parts of the foot joints to LESS pressure than that of a hard surface.
The article adds two very important caveats:
Ensure that the gage of the bottom wire is heavy enough. Floor wire is ideally 14 gage 1"x1/2" wire. Anything finer than 16 gage might do harm in some instances.
Some rabbits with poorly formed feet and/or large or rexed rabbits might do best with at least partially solid floors in any case.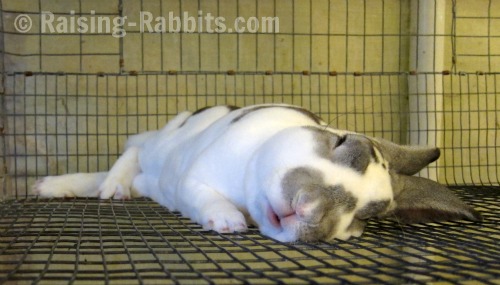 (Our rex rabbit is sound asleep and as comfy as can be on this wire cage. Rex rabbits can be selectively bred for densely furred pads on their feet. Even so, we do like to offer additional resting materials when necessary.)


Shiny Satins Rabbitry has also compiled a synopsis of scientific studies demonstrating a clear advantage in well-being of wire cages over various other surfaces in most instances.

If you have any questions about using all-wire cages, we encourage you to visit http://shinysatins.weebly.com/wire-floor-research.html and take a look for yourself at the various scientific agricultural studies.

Quoted from the USDA website:
"Orova, et al. (2004) found that growing rabbits preferred wire net floors rather than deep litter at normal temperatures (16-18EC)"
(Emphasis ours)

Feel free to chat with us over at Raising-Rabbits on Facebook.

Lastly, from HumaneWatch.org

Here's a quick reminder about HSUS advertising scams that crossed our desk today: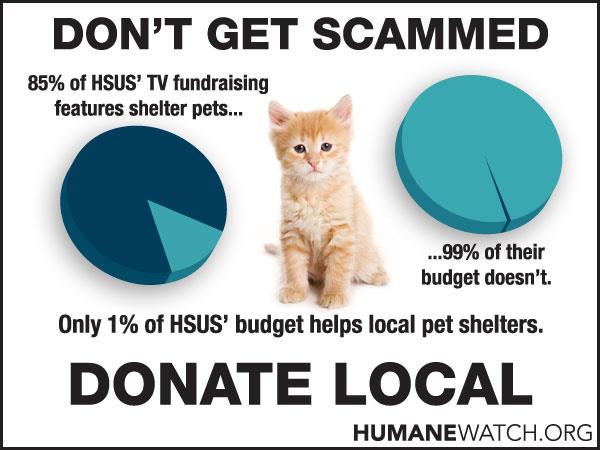 HSUS fully intends to rob us of all our pets, and all animal products, forever. "One generation and out," in the words of Frank Pacelle, HSUS boss. The amount of animal-related disinformation to keep us all in the dark, and the funding to put it all forth, is staggering.

We stand with HumaneWatch and encourage people to support their local animal shelters rather than the HSUS or PeTA.

Looking for the TRUTH about how to best care for your animals? Get your info from sources (like Raising-Rabbits.com) that are animal welfare focused, NOT animal rights focused.


Like this newsletter?
Maybe your friends would too...

Your friends at Raising-Rabbits.com wish you a wonderful August.

Enjoy your rabbits!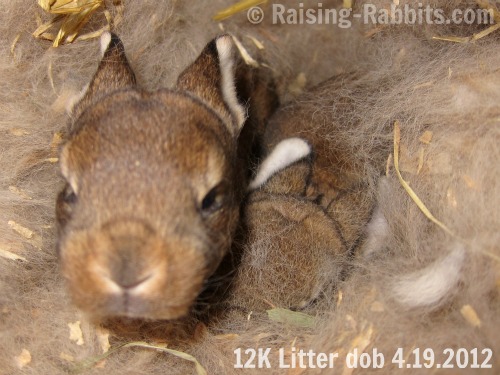 12-day-old castor rex doe